Florida's Anti-Drag Bill Is So Extreme It Would Ban The Rocky Horror Picture Show and Hair the Musical
Florida Republicans admitted as much.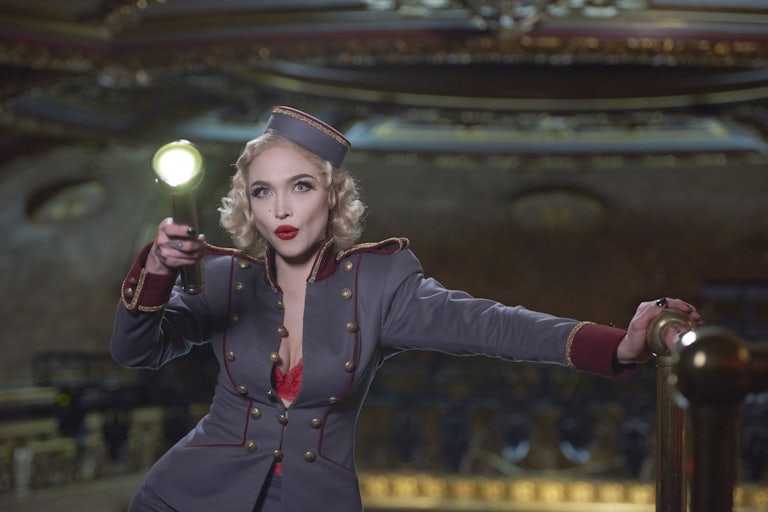 Steve Wilkie/Fox/Kobal/Shutterstock
"The Rocky Horror Picture Show: Let's Do the Time Warp Again" film from 2016
Florida Republicans are pushing forward a bill that seeks to ban drag shows from allowing someone under the age of 18 to be in attendance.

But the bill is so vaguely worded, using the term "adult live performance," that even Republican lawmakers have admitted it would prevent a high school kid from watching The Rocky Horror Picture Show or even the musical Hair.

The bill also explicitly targets Pride parades and celebrations, by preventing a government entity from issuing permits to an organization that may put on such a performance. If a violation occurs, say in a city like St. Petersburg, which hosts the largest Pride celebration in the state, the person who issued the permit could be charged with a misdemeanor.
In addition, any establishment that violates the law would be subject to license suspension or revocation and liable to large fines and a misdemeanor charge. One violation would spur a $5,000 fine; subsequent incidents would spur $10,000 fines.
The bill defines "adult live performance" to include "any show, exhibition or other presentation in front of a live audience," that in any form "depicts or simulates nudity, sexual conduct, sexual excitement, or specific sexual activities," such as "lewd conduct, or the lewd exposure of prosthetic or imitation genitals or breasts."
The bill is concerned especially with any such conduct that is deemed "patently offensive to prevailing standards in the adult community of this state as a whole with respect to what is suitable material or conduct for the age of the child present." It's unclear what those standards are, and at which Adult Community Conference they were hashed out.
"Politicians are imposing their personal beliefs on Floridians by punishing businesses that support the LGBTQ+ community," said the Florida ACLU. "This is a far cry from the 'Free state of Florida' that Governor DeSantis is claiming to promote."
While Florida Republicans advance this bill, they and other Republicans have been busy just this week pushing forth other anti–civil rights legislation throughout the country. Idaho and Indiana both instituted bans on gender-affirming care for trans people under the age of 18. Florida and Texas advanced their own similar bills banning gender-affirming care, and Kansas advanced legislation banning transgender people from using public bathrooms or even being able to update their name or gender on their driver's license. Florida Senate Republicans also passed an extreme six-week abortion ban.

All in all, these Republicans are doubling down on infringing upon people's civil rights under the guise of "protecting the children," while thousands of students demand actual protection in the form of taking action on mass shootings and gun violence. But no matter for Florida Republicans; just last week, they made it legal to carry concealed weapons in the state without a permit, training, or background checks.