Marjorie Taylor Greene Says Calling Her a White Supremacist Is the Same as Using the N-Word
Greene made the comment while lying about Jamaal Bowman, a Black congressman, and calling him "aggressive."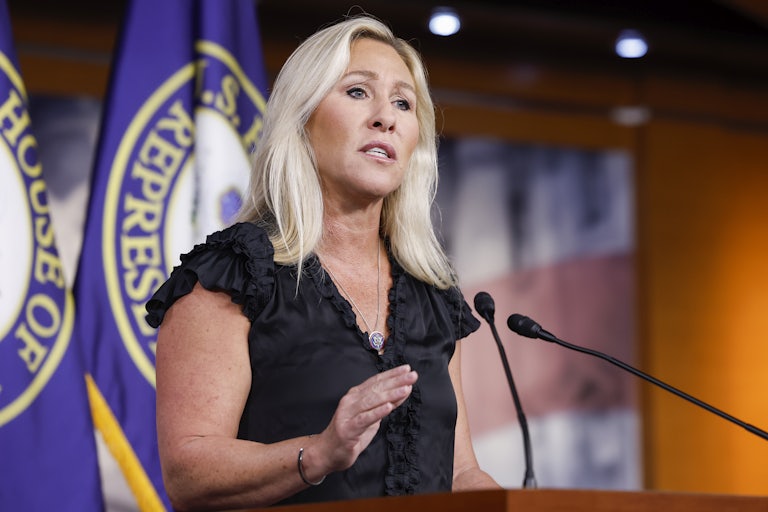 Anna Moneymaker/Getty Images
Representative Marjorie Taylor Greene says calling her a white supremacist is "like calling a person of color the n-word."
Greene—who has called for a "national divorce," spread conspiracy theories about 9/11 and Jewish space lasers setting forest fires in California, and expressed support for fatal violence against Democrats—made the statement Thursday as she announced her intention to introduce articles of impeachment against Joe Biden.
The Georgia representative was taking issue with Representative Jamaal Bowman calling her a white supremacist, and instead claimed that Bowman was in fact inflicting violence upon her. She complained about Bowman yelling and calling her a white supremacist, which she takes "great offense to."
"His physical mannerisms are aggressive," Greene said about Bowman, a Black man with an opinion. "I feel threatened by him.
Beyond Greene's outrageous claim that calling her a white supremacist is the same as calling a Black person the n-word, Greene's characterization of Bowman was tainted with racist stereotypes that he's a "scary Black man"—a characterization Bowman notes spans way beyond a "dog whistle," into "bullhorn" territory:
Greene claimed Bowman led a mob around her, referring to when she was surrounded by people at the New York City courthouse, amid former President Donald Trump's criminal indictment last month. But Greene's suggestion belied what was actually the case: counterprotesters not related to Bowman were having none of her defenses of Trump. Greene's fears of a "mob," of course, are all the more comical given her encouragement and defense of rioters who attacked the Capitol on January 6, 2021.
Greene also lied and claimed Bowman "shoved" Representative Thomas Massie, seemingly referring to Bowman's confrontation of Massie, in the aftermath of the Nashville school shooting, about Republican inaction on guns. While both were passionate, Bowman did not shove Massie.

Greene's concerns over a "shove," of course, are all the more comical given that her own close colleague Clay Higgins just assaulted a protester less than 24 hours prior. And even on the count of verbal assaults, Greene famously accosted a survivor of the mass school shooting in Parkland, Florida.
In sum, Greene found a way to be incredibly racist, remarkably dishonest, and keen on reminding all of us how she and her colleagues are actually guilty of all the charges she leveled against Bowman.