Illinois Becomes Ninth State to Ban Assault Weapons
Illinois Governor J.B. Pritzker signed a statewide ban on assault weapons and high-capacity magazines, a few months after the mass shooting in Highland Park.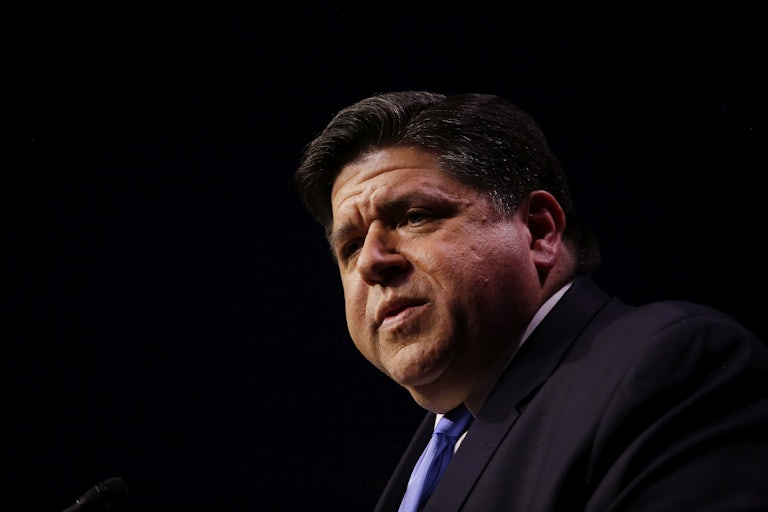 Joshua Lott/Getty Images
Illinois Governor J.B. Pritzker
Illinois is now the ninth state in the United States to ban assault weapons. Governor J.B. Pritzker signed a bill late Tuesday night banning the sale and possession of assault weapons.
The state Senate passed the "Protect Illinois Communities Act" 34–20 on Monday, kicking it to the state House, which approved the bill 68–41 Tuesday. Pritzker signed the bill shortly thereafter, immediately enacting it into law. The bill passed just before newly elected officials were to be sworn in on Wednesday.
Illinois will halt the sale and possession of an array of assault weapons, handguns, and high-capacity magazines and "switches"—rapid-fire devices that can convert semiautomatic weapons into automatic machine guns.
The ban comes six months after a mass shooter killed seven people at a Fourth of July parade in a Chicago suburb. The gunman had used a legally purchased semiautomatic weapon.
"After nearly every mass shooting, we've seen efforts to ban dangerous weapons thwarted—and then leaders send their thoughts and prayers, while they throw their hands up, resigning themselves to the idea that gun violence is a sacrifice that Americans must accept," Pritzker said at a press conference. "But it doesn't have to be that way."
Now nine states, as well as Washington, D.C., forbid the sale or possession of such weapons. The Illinois State Rifle Association has already threatened to challenge the ban in court. Meanwhile, a recent poll showed 63 percent of Illinoisans in favor of banning assault weapons.
"This assault weapons ban is a step in the right direction," Pritzker said at a press conference. "But there's no magic fix, no single law that will end gun violence once and for all. So we must keep fighting, voting, and protesting to ensure that future generations will only have to read about massacres like Highland Park, Sandy Hook, and Uvalde in their history books. It's our burden and our mandate, one that we carry with solemn honor for our children who will grow up in a better and safer world."