Louisiana Republican Breaks Ranks to Kill Anti-Trans Bill, Says He Doesn't Care What Other People Say
Fred Mills is completely unbothered by the right's outrage over his vote.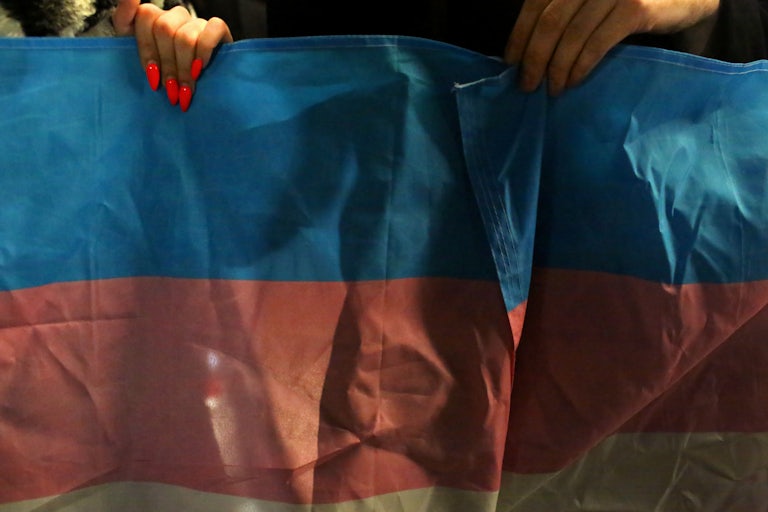 Yana Paskova/Getty Images
A Louisiana Republican state senator broke ranks to kill an anti-trans bill banning gender-affirming care for minors. And he doesn't care about the online right-wing outrage over it.
Fred Mills cast the deciding vote Wednesday to block a bill that would have banned hormone therapy, puberty blockers, and gender-affirming surgery for transgender minors. The bill had passed the House and was up before the Senate Health and Welfare Committee. Mills joined all four Democrats in voting to defer the bill, effectively killing it for the year. Louisiana is now the only state along the Gulf Coast that still allows gender-affirming care for minors.
"Always in my heart of hearts have I believed that a decision should be made by a patient and a physician. I believe in the physicians in Louisiana," Mills, a pharmacist, said at the time. "I believe in the scope of practice. I believe in the standard of care."

Mills explained that part of his decision was based on testimony from medical professionals. Health professionals widely acknowledge that gender-affirming care decreases levels of anxiety, depression, and suicidal thoughts in LGBTQ minors. Doctors generally don't recommend surgery for people under age 19, and a Louisiana Health Department report found that no Medicaid recipients had received gender reassignment surgery in the state between 2017 and 2021.

A child and adolescent psychiatrist testified in the committee about the standard procedures already in place for gender-affirming care. He pointed out that many medications used for trans care are proven safe and used to treat other, unrelated issues.
Many far-right activists immediately sought to discredit Mills after the news of his vote broke. Greg Price, who works with the right-wing State Freedom Caucus Network, said Mills had received "massive contributions from Big Pharma." Noted transphobe Matt Walsh said Mills had "sided with the butchers and groomers" and predicted it would end the senator's career.
But Mills, frankly, doesn't care. "Why should I?" he told the Louisiana Illuminator. "They don't live in District 22. They don't have a 337 area code."
"I didn't run for office to serve those people."
Mills said he heard no evidence of children being harmed by gender-affirming treatment, so he voted based on the data that was presented. Since then, he said many colleagues have thanked him for his decision, including other Republican senators who are not on the committee.