A Judge Has Temporarily Blocked South Carolina's Extreme Abortion Ban
If it goes back into effect, the ban would block abortion before many people even know they're pregnant.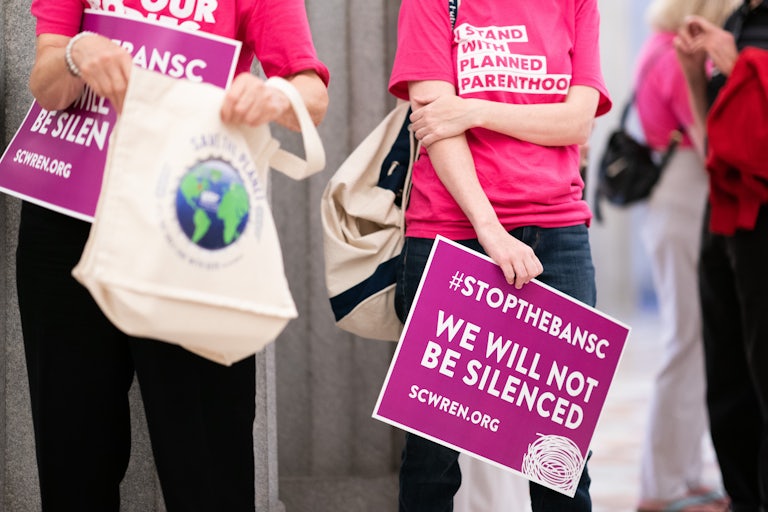 Sean Rayford/Getty Images
Demonstrators at the South Carolina Statehouse on May 23
A judge temporarily halted South Carolina's new draconian abortion ban on Friday, allowing abortions to continue until the state Supreme Court can review the measure.
Republican Governor Henry McMaster signed the measure, which bans abortion after six weeks, into law on Thursday. He did so behind closed doors, with no warning to doctors who could be about to perform a newly illegal procedure. The law went into immediate effect, and Planned Parenthood's action arm sued the same day.
Judge Clifton Newman issued his ruling about 24 hours later, meaning abortion is once again legal up to about 20 weeks in South Carolina. "The status quo should be maintained until the Supreme Court reviews its decision," Newman said. "It's going to end up there."
After Roe v. Wade was overturned, South Carolina enacted a six-week trigger ban, which the state Supreme Court blocked in January. One of the justices, John Few, said in a separate opinion that he had sided with the majority because he felt the 2021 law was poorly written and lacked proof that six weeks is enough time for someone to know they are pregnant (spoiler alert: It isn't).
State Republicans have since tried to push through a new law that will circumvent the ruling, with new language aimed at swaying Few to vote in favor of it should the measure go up before the high court.
A similar ban had died in the legislature in late April after all the female senators, who span the political spectrum, banded together to filibuster the measure. But McMaster called the lawmakers back for a special session to consider multiple measures, including a new abortion ban, which finally passed the legislature on Tuesday.
With Newman's ruling, South Carolina is once again one of the last states in the South to hold the line on abortion access; the only other state that does not restrict the procedure is Virginia. Florida and North Carolina codified new abortion restrictions in quick succession in recent months, decimating abortion rights in the Southeast.