Republicans Introduce Reckless Resolution to Stop Biden From Helping 43 Million Americans With Student Debt
A new resolution from Republican senators seeks to overturn Biden's student loan forgiveness program.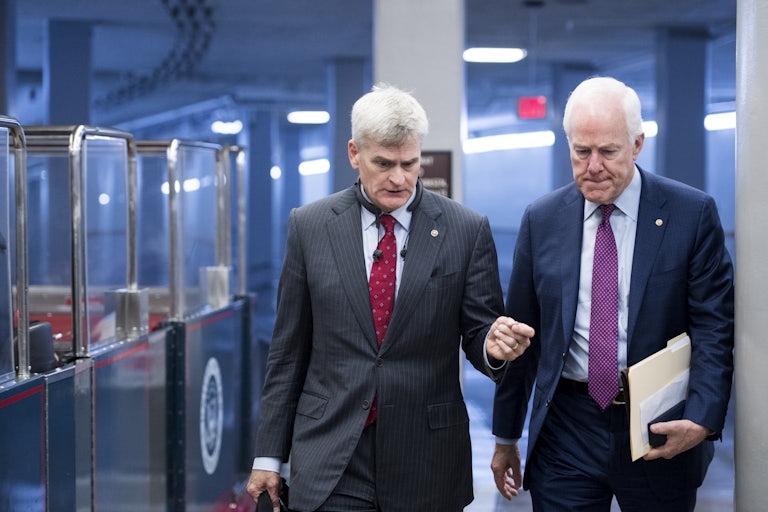 Bill Clark/CQ Roll Call
Senators Bill Cassidy and John Cornyn
While the fate of 43 million people's financial lives are in limbo as President Biden's student debt relief plan faces a challenge in the Supreme Court, Republicans are proceeding to add another direct challenge. On Monday, 39 Senate Republicans introduced a resolution to overturn Biden's student loan forgiveness program.
The challenge comes after the Government Accountability Office deemed Biden's relief plan a "rule" and therefore eligible to be overturned through a Congressional Review Act resolution.
"Where is the relief for the man who skipped college but is paying off his work truck, or the woman who paid off her loans and is now struggling to afford her mortgage?" Senator and resolution leader Bill Cassidy said, as if the 43 million people who would be helped by the policy are all somehow part of the 1 percent (read: This is mathematically impossible).
"This resolution prevents these Americans, whose debts look different from the favored group the Biden administration has selected, from picking up the bill for this irresponsible and unfair policy," Cassidy continued, as if the government did not just throw a buoy to Silicon Valley Bank, which benefited from conservative deregulation.
Republican Representative Bob Good introduced a companion House resolution as well.
The Congressional Review Act opens a pathway to overturn agency rules through a simple majority; the act is not subject to a Senate filibuster. Republicans maintain their slim majority in the House while Democrats hold an ostensible 51–49 majority in the Senate (ostensible, given Kyrsten Sinema's status as an independent, or really, aspiring Republican).
Even if the measure passes, Biden would be able to veto it, which would require a two-thirds congressional majority to override.
While Republicans continue to frame the student debt relief plan as a favor to the rich, the White House estimates that 87 percent of the relief would go to individuals earning less than $75,000 a year, while none would go to those earning more than $125,000. Ninety-five percent of the total benefits from the plan would go toward households making less than $150,000.
"Republicans are showing us just how callous and uncaring they can be to families trying to make ends meet," Senate Majority Leader Chuck Schumer tweeted last week, as Republicans announced their plans to target the debt relief plan. "We will continue to fight this cruel Republican attempt to end student debt relief with everything we have."