Ohio Republicans Are Making It Harder to Change the Constitution
The move could block abortion protections, gun reform, and more.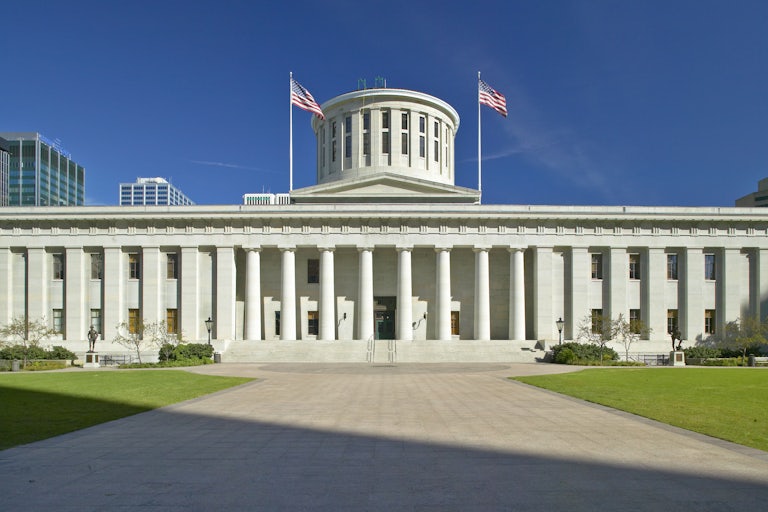 Joe Sohm/Visions of America/Universal Images Group/Getty Images
Ohio Republicans are making it harder to amend the state Constitution—affecting things like abortion rights, increases to the minimum wage, and gun reform.
On Wednesday, the Ohio Senate passed a bill to set up a $20 million taxpayer-funded election to raise the threshold for constitutional amendments. Since 1912, voters have just needed a simple 50-plus-one majority to add an amendment to the Constitution. Now Republicans want to raise that number to 60 percent, allowing a smaller minority of voters to stop any potential amendments from passing.
Of course, this isn't happening in a vacuum; this isn't preparation for an unknown future. For instance, Ohioans may be voting on abortion rights this November and on a raise to Ohio's minimum wage next year. The push to set up a special election this August is meant as a final Hail Mary to block those referendums (sound like a familiar conservative formula?).
Four states—Kansas, Kentucky, Montana, and Michigan—voted by simple majority to affirm abortion rights just in the past year. Two others, Vermont and California, voted above the 60 percent threshold.
Also last year, Nevada and Nebraska both voted in simple majorities in favor of raising their minimum wages.
Critics have noted that Ohio's August election would be a costly endeavor, all for a likely low-turnout affair. (Last year's August election garnered a whopping 8 percent in turnout.) Senator Nathan Manning, the lone Republican to vote against the bill, agreed.
"I don't think spending $20 million on a low turnout election was the right decision," Manning told the Columbus Dispatch.
As for the principle of it all, Ohio lawmakers in December actually moved to eliminate most August special elections, on the same grounds of cost and turnout. The change was supported by Republicans, including Secretary of State Frank LaRose.
The issue of turnout is all the greater when, comically, a vote to raise the threshold of referendums from 50 percent to 60 percent would itself only require 50 percent to pass.
Now the bill's fate is left to the Ohio House, where Republicans have a supermajority.