Donald Trump Could've Gotten the Hunter Biden Deal
The former president thinks his successor's son got off with a "traffic ticket." He could have too—if he had listened to his lawyers.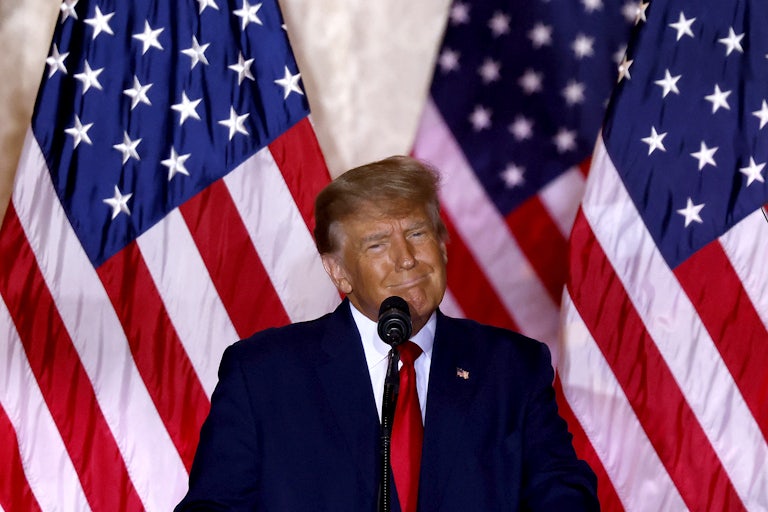 Photo by ALON SKUY/AFP/Getty Images
Donald Trump speaking in 2022
Donald Trump is predictably furious after Hunter Biden agreed to plead guilty on two misdemeanor charges of tax evasion and participate in a pretrial program for a gun offense in a deal that means the son of the current president will avoid jail time. "Wow! The corrupt Biden DOJ just cleared up hundreds of years of criminal liability by giving Hunter Biden a mere 'traffic ticket.' Our system is BROKEN!" Trump wrote on Truth Social, his bespoke, decrepit social network. "No crime, no case. Election Interference!" he continued.
This is an extension of the line Trump has repeatedly deployed about the dozens of federal charges he faces regarding his alleged mishandling of sensitive classified material related to U.S. national security. Trump has claimed, again and again, that he is facing a political witch hunt, that the charges he faces are a smokescreen intended to remove him from the 2024 presidential race, and that the real criminals—Joe Biden and his family—are getting off scot-free.
There are several problems with this. Setting aside the dubious nature of the allegations against the Bidens, the biggest issue is probably that Trump has all but admitted to refusing to hand back the classified documents for months after leaving office. But there's another issue as well. Donald Trump could very well have gotten the same deal—and probably even a lighter one—if he had just listened to his lawyers' advice. One of Trump's attorneys reportedly tried to get him to return the documents after the Department of Justice's investigation had begun. Had Trump done this—or if he had returned them months earlier, when the National Archives asked for them back—it is highly unlikely that he would have been charged at all.
If he took a plea deal like the one Hunter Biden agreed to on Tuesday, he would have also likely received a "slap on the wrist" or even less—the Justice Department really, really did not want to bring charges against a former president. He chose not to. The decision to refuse to return documents he had unlawfully retained and then, after an investigation had been opened, to refuse to even try to negotiate a settlement with the Department of Justice directly led to the dozens of charges he was hit with earlier this month.

Donald Trump could have gotten off with a traffic ticket too. The only person he has to blame for the legal predicament in which he now finds himself is Donald Trump.