Nancy Mace's Jokes About Republicans Are Really Funny if You Don't Pay Attention to Her Own Record
Representative Nancy Mace has some jokes about her Republican colleagues. But take a closer look.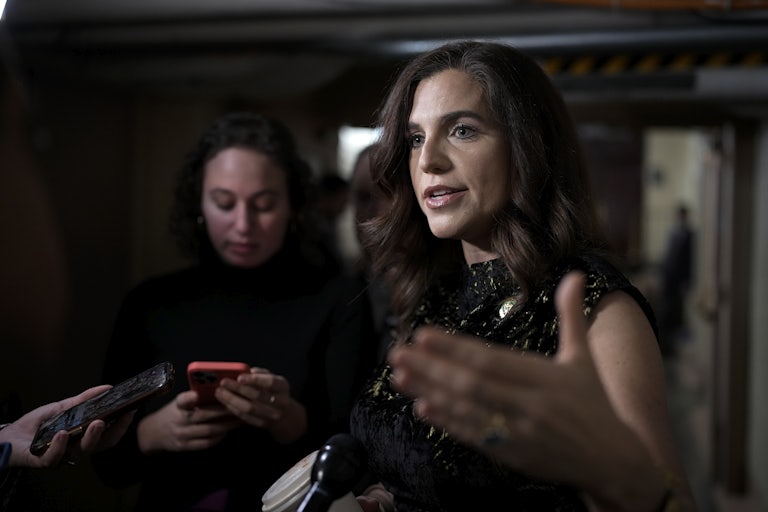 Drew Angerer/Getty Images
"I know everyone thinks Republicans aren't funny. But if you get a bunch of us together, we can be a real riot."
On Wednesday night, Republican Representative Nancy Mace charmed the Washington press corps with a stand-up routine filled with enough self-awareness that it showed how much of a game Washington politics really can be.
"Come on George, you've given Republicans a bad name, and that's Lauren Boebert's job," Mace quipped. "Just kidding Lauren, don't shoot."
"There hasn't been a Republican that's gotten this much buzz since Lauren Boebert went through a metal detector," she added.
The chummy event followed a chaotic GOP-led House Oversight Committee hearing with former Twitter employees, in which an array of incendiary right-wingers outright threatened the employees and exposed their own claims of collusion between Democrats and the social media company as completely baseless.
During said hearing, it was not just the typical suspects Boebert and Jim Jordan who were throwing everything at the wall and seeing what would stick.
Mace joined in, appealing to elite credentialism to question why Twitter's employees felt they could apply their content moderation policies to Harvard and Stanford-educated doctors when they did not hold medical degrees. The doctor in question was Jay Bhattacharya, who co-published a petition condemning Covid-19 responses like lockdowns, contact tracing, and isolation and argued that "those who are not vulnerable should immediately be allowed to resume life as normal."
Bhattacharya (who now serves on Ron DeSantis's public health "integrity" committee) and company published the petition on October 5, 2020, at which point more than 200,000 people had died of Covid in the United States alone. Another more than 900,000 have died since then—even with America's hodge-podge but still not immediately returning-to-normal response. Mace went to bat for a man whose ideas, if validated further, could have led to thousands more deaths.
Mace further peddled doubts about the vaccine, saying she had "great regrets about getting the shot," proclaiming she has not only had long-term effects from Covid but now from the vaccine too. If she does indeed have such effects, that's surely concerning. But this does seem to be the first time she has said so, and it doesn't seem to preclude the possibility that her long-term effects are, in fact, just from long Covid itself—which one would think might make someone less eager to defend a doctor who disparaged Covid mitigation strategies.
And for the cherry on top, Mace proudly declared, "Thank God for Matt Taibbi. Thank God for Elon Musk," for the Twitter Files, which helped prompt a hearing so comical, you'd think it would have made it into Mace's stand-up routine.
Mace's oscillation between her pally "I'm-not-like-other-Republicans" shtick and essentially being exactly like her other far-right colleagues is part of an ongoing trend.

After Mace initially expressed hesitation to kick Ilhan Omar off the House Foreign Affairs Committee, she fell in line on her caucus's shameless smear campaign against one of the only independent voices on foreign policy in Congress.
As Mace continues to criticize her party's staunch anti-choice stance, touting her own supposedly more moderate views, she has continued to vote "yes" on anti-abortion bills.
And maybe Mace is doing it all just because she can. She'll maintain good standing with her ever-rightward party, while still currying favor with the press, as she delivers wink-wink jokes, assuring the press corps that she's different from the rest of her colleagues. It's fine to chuckle at the humor and absurdity of it all. But let's not fall for the whole act.