Summer Lee Bats Away Pentagon's Limp Excuses for Huge Viagra Budget
"Do you know how many bridges in my district of Pittsburgh could be repaired with that amount?" the progressive representative asked.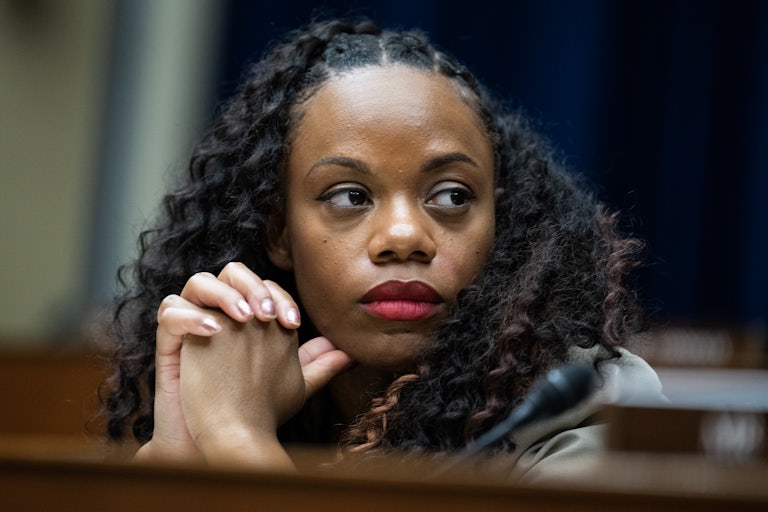 Tom Williams/CQ-Roll Call, Inc/Getty Images
Representative Summer Lee
While Congress prepares to vote on yet another massive American defense package, different members have different priorities. Republicans, not satisfied with the progress on imposing their radical agenda, are looking to cram it into the defense bill as well. Progressives like Summer Lee, however, are going after the real issue at hand: how much trillions of dollars we spend not only on the war machine, but the most frivolous purchases within it, too.
"How much on average does the military spend on Viagra each year?" the Pittsburgh Representative asked John Tenaglia, a principal director at the Department of Defense, during a hearing on Wednesday.
"I don't have that figure," Tenaglia responded.
"About $41.6 million," Lee responded. "Do you know how many bridges in my district of Pittsburgh could be repaired with that amount?" Lee continued, noting that the city's Fern Hollow Bridge, which collapsed recently, would cost about $25.3 million to rebuild—a fraction of how much the Department of Defense has apparently spent on the erectile dysfunction pill.
"How much did the Department of Defense spend on snow crab and Alaska king crab in 2018?" Lee persisted. Tenaglia did not know the amount. "According to Open The Books, it was 2.3 million. Do you know how much the Pittsburgh City Council spends each year serving the county's unhoused population? Only 1.2 million, but they're certainly not being served Alaska king crabs."
Lee also cited a 2016 House investigation that found the F-35 program raking up "hundreds of millions of dollars in added costs due to mismanagement and negatively affected military readiness," noting that the entire program is estimated to cost $1.7 trillion—"enough to completely eradicate student loan debt." She continued, citing the Government Accountability Office finding that just between May 2018 and October 2022, about million F-35 parts valued at $85 million were "lost."
After decades of reckless and boundless military spending, it's high time Americans begin to understand how high the costs really are. Representative Lee joins a rising progressive caucus communicating the real stakes that the establishment keeps away from the public.