Michigan Now Requires Universal Background Checks for Guns After Deadly MSU Shooting
A Democratic trifecta in Michigan is delivering on its promises to voters.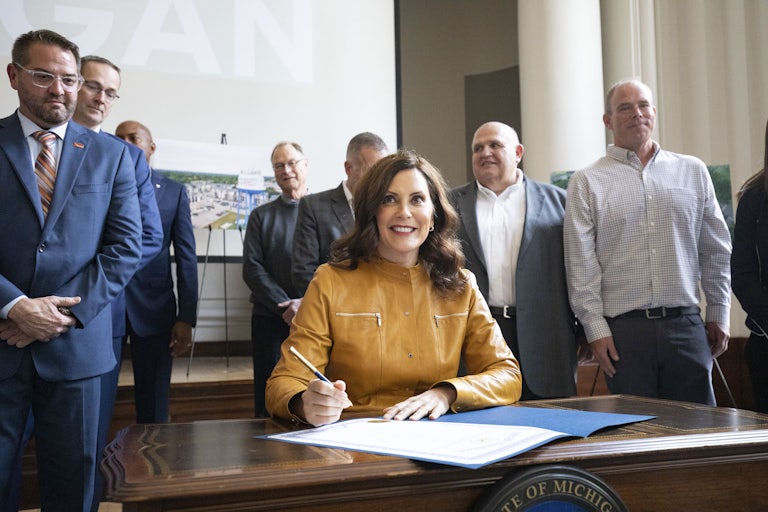 Bill Pugliano/Getty Images
Michigan Governor Gretchen Whitmer
On Thursday, Michigan Governor Gretchen Whitmer signed monumental gun violence prevention bills into law. The bills require anyone buying a gun in Michigan to face a background check and requires gun owners to safely store all guns and ammo away from anyone under the age of 18. The enactment of the bills reflects a Democratic trifecta that is showing the nation what it means to honor the will of the people.
"All of these initiatives are supported by a majority of Michiganders," Whitmer said. "I've gotten letters from all across our state asking for us to get this done."
The safe storage law charts entirely new territory, while the background check law expands what had previously just covered the sale of pistols. Now, no matter what firearm an individual is purchasing, they will be subject to a background check.
The policies, which will go into effect next year, are part of a broader 11-bill package pushed by lawmakers and residents in the aftermath of a shooter killing three students and injuring five others at Michigan State University in February.

Michigan Democrats had already planned to act on gun violence with their newfound trifecta, but the tragedy only heightened the urgency. The two gun laws, as well as others that Michigan is still in the process of passing, had in fact been put together last year, after a shooting at Oxford High School left four students dead and seven others injured. The difference between then and now? Republicans controlled the state House and Senate last year. But now Democrats are in full control and acting in accordance with the voters who gave them that control.
"I'm not asking for your pity. I'm asking for your change," Oxford High School senior Reina St. Juliana, whose younger sister Hana was killed in Oxford High, said to lawmakers during a hearing on March 2.
The safe storage law garnered particular support after the Oxford High School shooting. The shooter, 15-year-old Ethan Crumbley, had killed four students and injured another seven people using a gun that his father purchased for him, and one that was not securely stored away from him.
Similarly, a red flag law could have prevented the shooting. Crumbley had exhibited signs of mental distress and potential endangerment to his family and peers. A red flag law in Michigan may be coming next, as the Senate is expected to vote on a bill as soon as next week.
Michigan's action on preventing gun violence stands in stark contrast to Republican-led state governments across the country.
In the aftermath of the Nashville school shooting last month that left three children and three adults dead, state Republicans—led by House Speaker Cameron Sexton—exhausted more effort trying to expel three Democrats who stood in solidarity with thousands of Tennesseans protesting gun violence than they did actually addressing gun violence.

Before the shooting, Tennessee's Republican supermajority, notorious for playing by their own rules and shutting down bills for no reason, stomped on a red flag bill that could have stopped the Nashville shooting. Governor Bill Lee also signed a bill that allowed people to openly carry handguns without permits. Also after the shooting, Tennessee Representative Tim Burchett lazily threw up his hands, saying "We're not gonna fix" school shootings.
Finally, after Tennessee Republicans embarrassed themselves on a national stage, Governor Lee said he would support gun reform, without getting into any specifics. If he wants to take action, he can; after all, he and his fellow Republicans have helped shut down specific solutions for years. And now there's no excuse: Expelled and then quickly reinstated Tennessee Representative Justin Jones has promised to file 15 gun safety bills that Republicans will be held accountable on.
In nearby Kentucky, a mass shooting in Louisville left five people dead and another eight injured. Less than two weeks before the tragedy, Kentucky had banned local law enforcement agencies from enforcing federal firearm laws.
And in Florida, right after the Nashville shooting, Governor Ron DeSantis quietly signed a bill allowing people to carry concealed loaded guns without any permits, training, or background checks.
All this to say, the contradictions are ever-escalating. While coverage of one mass shooting painfully seeps into the next, Republicans are openly making it easier for anyone to access weapons of killing. Meanwhile, Michigan Democrats, under the leadership of Whitmer, are showing in clear form what it means to actually respond to crisis on behalf of the people who trust you to act. Whitmer was given a trifecta for a reason—and she is doing justice to it.