Unlike in America, Brazil's President Unequivocally Calls Insurrectionists "Fascists"
After an attack on several government buildings, Brazil's new president wasted no time and promised to hold the fascists accountable.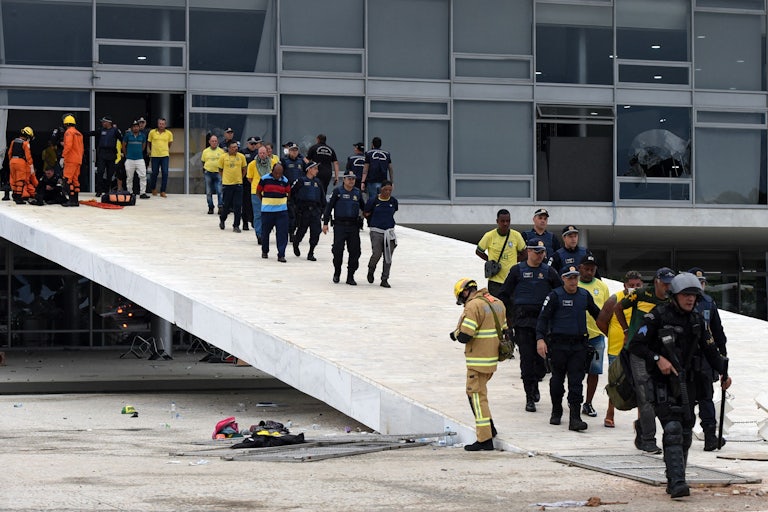 TON MOLINA/AFP/Getty Images
Security forces arrest supporters of Brazilian former President Jair Bolsonaro after they invaded Planalto Presidential Palace in Brasília on January 8.
Supporters of former far-right Brazilian President Jair Bolsonaro attacked the nation's Supreme Court, Congress, and presidential palace in hordes on Sunday. And Brazil's government—led by new President Luiz Inácio Lula da Silva—has minced no words on the attack.
Lula excoriated the "barbarism in Brasília," calling the rioters "fascists, the most abominable thing in politics." He then signed an edict mobilizing federal forces to intervene in the havoc.
"I wanted to tell you that all the people who did this will be found and punished," Lula said as he signed the decree. "These people have to be punished, and we are going to find out who financed these vandals that went to Brasília, and they will all pay with the force of the law for this irresponsible gesture, this anti-democratic gesture, this gesture of vandals and fascists."
And the decree is already in motion.
While the January 8 riot has drawn comparisons to the January 6, 2021, attack on the U.S. Capitol, one clear distinction is that the former has prompted both clear-eyed identification of who the culprits were—not just protesters or rioters but fascists—and an immediate effort to bring said fascists to justice. While hundreds have already been apprehended in Brazil in less than 24 hours, it took twice as long for the United States to charge 53 people.
It's barely been a day, so it's too early to completely evaluate Brazil's efforts to hold the fascist rioters accountable. But the response thus far appears promising, and it is not just directed at individual rioters but also the systems that have directed them.
"We are going to find out who the financiers of these vandals who went to Brasília are, and they will all pay with the force of law," Lula said, suggesting that the rioters were linked to the illegal logging, mining, and cattle ranching interests that pushed for the rampant deforestation that occurred under Bolsonaro's reign.
The attackers acted on a fascist impulse to defend who they falsely see as their rightful ruler: a man who said he was committed to the transfer of power but refused to explicitly concede the election. Lula called it as it was, vigorously shutting down the fascist impulse and holding fast to the alternative politics he was duly elected to carry out.
More on What's Happening in Brazil