Senate Judiciary Finally Passes Bill to Go After Corrupt Supreme Court Justices
After dozens of reports on Supreme Court justices' ethics scandals, a new bill aims to clean up the court.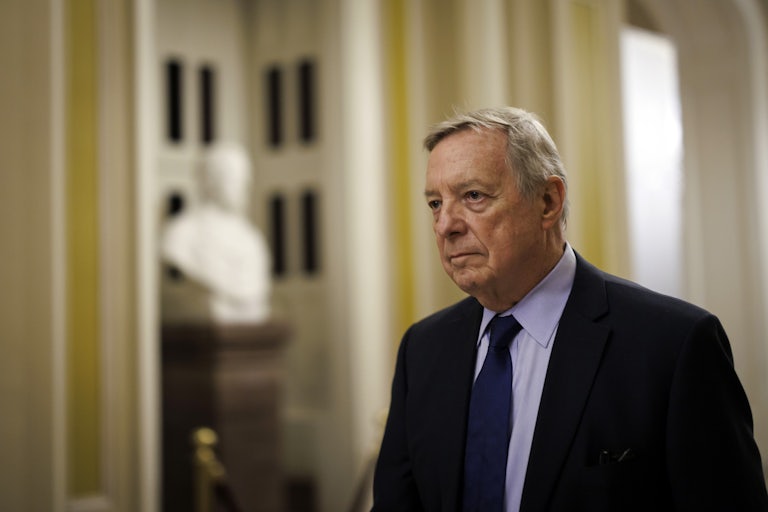 Ting Shen/Bloomberg/Getty Images
Senate Majority Whip Dick Durbin
The Senate Judiciary Committee finally made a move Thursday to tackle corruption on the Supreme Court, advancing a bill that would require the justices to adopt a code of ethics.
The high court has come under fire in the wake of reports that Justices Clarence Thomas and Samuel Alito have accepted lavish gifts from billionaire Republican donors. Many people have called on the court to establish an ethics code to help prevent such situations in the future—which the justices have resisted.
The Senate Judiciary voted 11–10, along party lines, to approve the Supreme Court Ethics, Recusal, and Transparency Act, which would require the court to establish a code of conduct. It would also create a process for people to submit ethics complaints against the justices.
The measure would require justices to adhere to new rigorous disclosure rules for any gifts, travel, or income that they or their clerks receive—clearly a direct response to the gifts that Thomas and Alito have accepted over the years. The bill would also set up a panel of judges from the lower courts to investigate complaints against the justices and make recommendations for any consequences.
Senate Judiciary Chairman Dick Durbin called the legislation "a crucial first step in restoring confidence in the court," after a "steady stream of reports of justices' ethical failures."
But committee Republicans filed 61 amendments, in an effort to drag out the committee hearing. Ranking member Lindsey Graham accused Democrats of doing "just about everything there is to do to delegitimize this court."
But the justices have managed that just fine on their own. Thomas has for years accepted hundreds of thousands of dollars' worth of gifts from GOP megadonor Harlan Crow in the form of island-hopping yacht vacations; the Nazi memorabilia collector also paid for Thomas's nephew's tuition, and he bought a Thomas family property, where Thomas's mother still lives.
Thomas has repeatedly refused to recuse himself from cases that relate to the January 6 riot—despite the fact that his wife, Ginni Thomas, is a major right-wing activist.
Alito accepted a luxury vacation from a billionaire Republican megadonor, as well. Right-wing activist (and then–head of the Federalist Society) Leonard Leo helped organize the trip, and also attended.
Meanwhile, Chief Justice John Roberts's wife, Jane Roberts, has allegedly been paid more than $10 million by multiple law firms, at least one of which argued a case before her husband—after it had already paid her hundreds of thousands of dollars.
And the scrutiny is not limited to the conservative justices: Justice Sonia Sotomayor is under fire after the Associated Press reported that her staffers have pressured institutions where she was scheduled to speak to buy hundreds, even thousands, of copies of her books.