Ron DeSantis's Reset Needs a Reset
The struggling presidential candidate is banking on Iowa to win the nomination. It's not going well.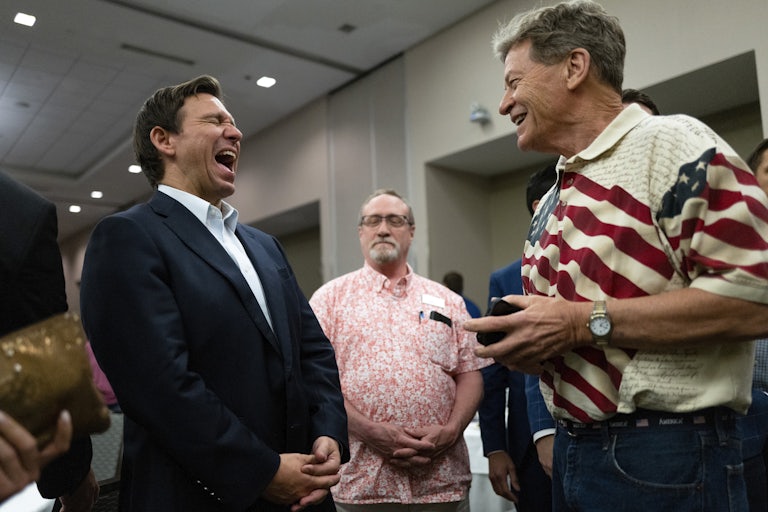 Photo by Stephen Maturen/Getty Images
Ron DeSantis being normal in Iowa.
Ron DeSantis's presidential campaign is not going well. The Florida governor has money problems. He has charisma problems. But mostly he has a Donald Trump problem: His candidacy is based on the idea that he is electable and competent and yet he is lagging far behind his main rival while running an inept, flailing, campaign.
Still, presidential campaigns can change on a dime and DeSantis has long banked on doing well in early primaries and caucuses and using that momentum to capture the nomination. In keeping with that strategy, he has spent seemingly as much time in Iowa as he has in his own state of Florida—despite the fact that he is, at least ostensibly, the governor of the Sunshine State. There have been times over the past few months when it seems like he's running for president of Iowa as much as he is running for president of the United States. He is in the state practically every week. He even suggested he would consider Iowa Governor Kim Reynolds as his running mate.
And yet it has gotten him almost nowhere. On Friday, The New York Times closed out its week of polls with a survey of Iowa voters. The Times did its best to put a positive spin on the results. Donald Trump, they found, is doing 10 points worse in Iowa than he is in the country as a whole: Only 44 percent of voters in the state plan on caucusing for him at this time. But this is hardly good news for DeSantis: He is only doing three points better in Iowa than he is nationally. Twenty percent of Iowans support him, compared to 17 percent nationally. In a head-to-head matchup between the two—something that almost certainly won't happen—DeSantis still lags far behind. Trump leads him 55 to 39 percent when the choice is whittled down to the two front-runners, though there is a sliver of good news: Those numbers are more or less flipped among college-educated Republicans.
Still, this is yet another dreadful sign for DeSantis. He needs an early win to show Republicans that he can take on Donald Trump. Yes, the caucuses are a long way away. But there's no evidence that DeSantis's strategy is working, even after an early reset.