Merrick Garland Calls Republicans' Bluff With Hunter Biden Special Counsel
Republicans claimed a special counsel was all that was needed to prove Biden corruption. Well, now there is one.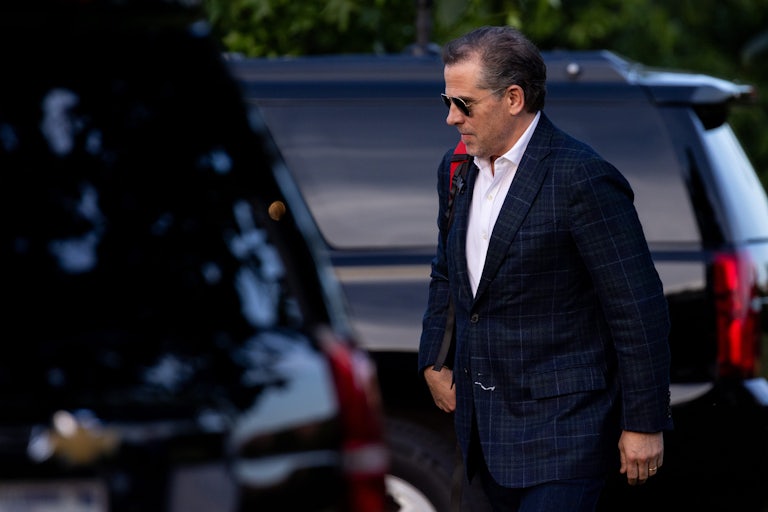 Julia Nikhinson/Sipa/Bloomberg/Getty Images
Attorney General Merrick Garland announced Friday that he has appointed a special counsel to oversee the investigation into Hunter Biden—but in doing so, he has annihilated several main Republican talking points.
Republicans have accused the Justice Department of dragging its feet on investigating the younger Biden for alleged tax fraud. They insist the department gave Biden a "sweetheart" plea deal and denied special counsel status to Delaware U.S. Attorney David Weiss, who oversaw the investigation.
So Garland has responded … by granting special counsel status to Weiss, whom he noted hadn't even asked about it until this week.
"In a July 2023 letter to Congress, Mr. Weiss said that he had not to that point requested special counsel designation," Garland told a press conference. "On Tuesday of this week, Mr. Weiss advised me that in his judgment, his investigation had reached a stage at which he should continue his work as a special counsel … I have concluded that it is in the public interest to appoint him as special counsel."
It may seem like Garland and Weiss are caving to Republican demands, but in reality, they are obliterating them. By making Weiss special counsel, Garland has fully insulated the investigation from accusations of government interference. Garland will now be required to inform Congress if he or the president for some reason were to block the investigation or potential indictments in any way.
Garland and Weiss are also making clear that the latter only just requested special counsel status. Republicans have repeatedly cited testimony from two IRS agents, who insist that Weiss did not have final say on whether charges would be filed. One of the agents, Gary Shapley, also claimed Weiss said he had been blocked from pursuing charges in D.C.—where Hunter supposedly committed his most serious crimes—and that the Justice Department would not grant him special counsel status, which would have let him bring charges outside his jurisdiction.

Weiss has repeatedly smacked down Shapley's claims, in the July letter Garland referred to and in a previous letter to House Judiciary Committee Chair Jim Jordan. Weiss, a Trump appointee, said in the second letter that he would have been granted special counsel status "if it proved necessary."
Apparently, that status proves necessary now (could it be because people won't shut up about him not having special counsel status?). Weiss had negotiated Biden's original plea deal, in which the much-embattled First Son would have pled guilty to two misdemeanor charges of tax evasion and participate in a pretrial program for a gun offense, allowing him to avoid jail time. Republicans, of course, hated that plea deal, and celebrated when it fell apart last month.
But for now, Republicans will have to find another talking point about Justice Department "corruption" stopping any investigation.