2024 GOP Nominees Are Speaking at Moms for Liberty Summit, in Open Embrace of Far Right
It's clear where the Republican Party is headed.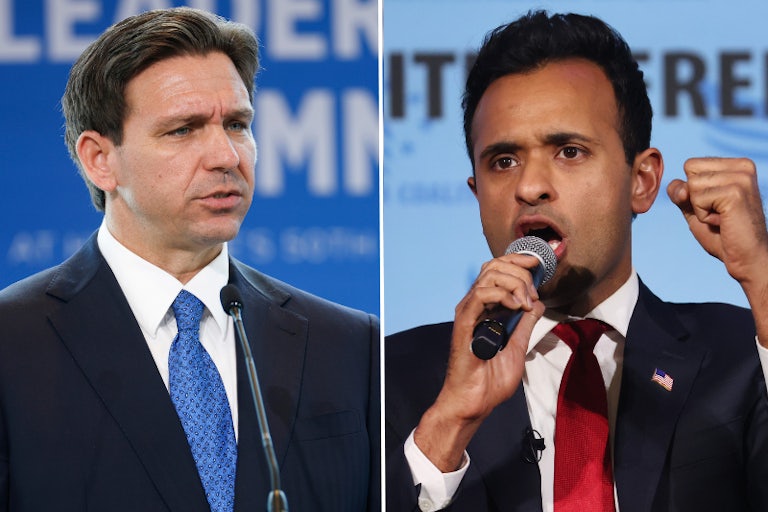 Anna Moneymaker/Getty Images Scott Olson/Getty Images
Presidential hopefuls Vivek Ramaswamy and Ron DeSantis have taken their "war on woke" to the extreme, with featured speaking spots at the second annual Moms for Liberty summit.
Moms for Liberty is a far-right organization that claims it supports parental rights. In reality, it supports erasing any mention of race, racism, and LGBTQ people from school curriculums. The group is hosting a conference in July, and the speaking lineup will feature both 2024 nominees, in a sign of where the party is headed.
"We need elected officials at every level of government to respect that parents should always be involved in the decisions that affect their children—especially while they are at school," group co-founders Tiffany Justice and Tina Descovich said in a press release about Ramaswamy's addition to the lineup Tuesday.
Ramaswamy and DeSantis certainly fit that bill. Ramaswamy has hinged his entire campaign on fighting "wokeism," railing against multiculturalism and gender ideology. DeSantis, meanwhile, has rampaged through Florida's public school system, banning diversity, equity, and inclusion programs, prohibiting discussion of sexual identity, and removing books from schools.
Moms for Liberty wields a newfound power in the Republican Party, as politicians try to tap into the group's supporter base. The group has backed bills banning transgender women and girls from playing womens' sports, encouraged book bans, and featured other extremist speakers.
Ramaswamy and DeSantis embracing Moms for Liberty shows that they aren't just fighting "wokeness." The two men are ready to stamp out entire communities.