Republicans Eagerly Celebrate Hunter Biden's Tax Plea Deal Falling Apart
Republicans' obsession with Hunter Biden continues.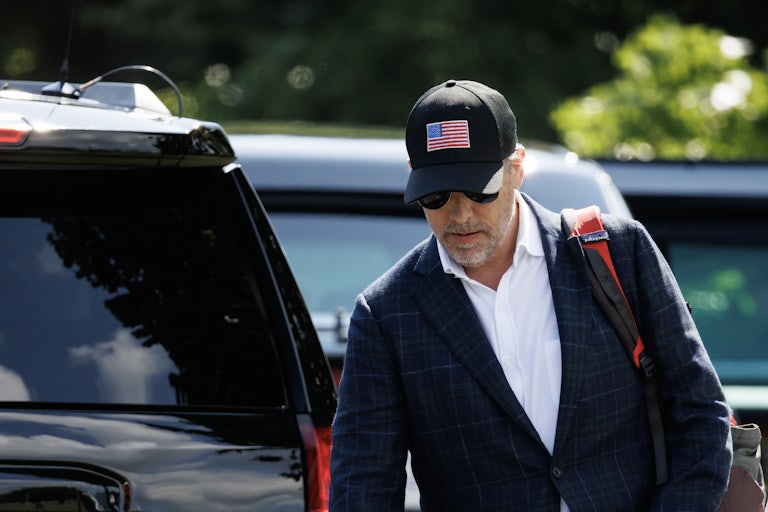 Ting Shen/Bloomberg/Getty Images
Hunter Biden
Republicans on Wednesday are eagerly celebrating the last-minute collapse of Hunter Biden's plea deal on tax evasion.
Biden agreed in June with Delaware federal prosecutors that he would plead guilty to two misdemeanors of tax evasion and admit to a gun violation. Under the terms, he would likely avoid jail if he stayed drug-free for two years. Since the announcement of the plea agreement, Republicans have complained that the deal is too soft.
Biden arrived at the Wilmington, Delaware, courthouse Wednesday to formally plead guilty, but Trump-appointed U.S. District Judge Maryellen Noreika refused to accept the plea deal, saying that she would not "just rubber-stamp the agreement."
As a result, Hunter Biden is pleading not guilty for the time being to the two tax misdemeanor charges.
The plea deal has not been outright rejected, but Noreika asked both sides to file additional briefs to further explain the agreement's legal structure.
Still, Republicans have been quick to celebrate Biden's downfall. "His attorneys shouldn't have lied to the clerk of the court," tweeted Representative Marjorie Taylor Greene, who is so desperate to prove Biden committed tax fraud that she waved his nude photos around a congressional hearing.
Representative Mayra Flores tweeted simply:

Others on the right accused the entire Biden family of acting as foreign agents and failing to register as such under the Foreign Agents Registration Act, or FARA. "The Biden Family cannot take CASH & DIAMONDS from China, Russia, and Ukraine without registering as foreign agents under FARA!" tweeted Representative Mary Miller.
Right-wing influencers like Jack Posobiec, Ian Miles Cheong, and Catturd all also celebrated the collapse of the deal.
This story has been updated.