Menendez's Amazing Defense for All Those Envelopes of Cash: I'm Cuban
Senator Bob Menendez has an impossibly hilarious explanation for all those gold bars and cash that police found.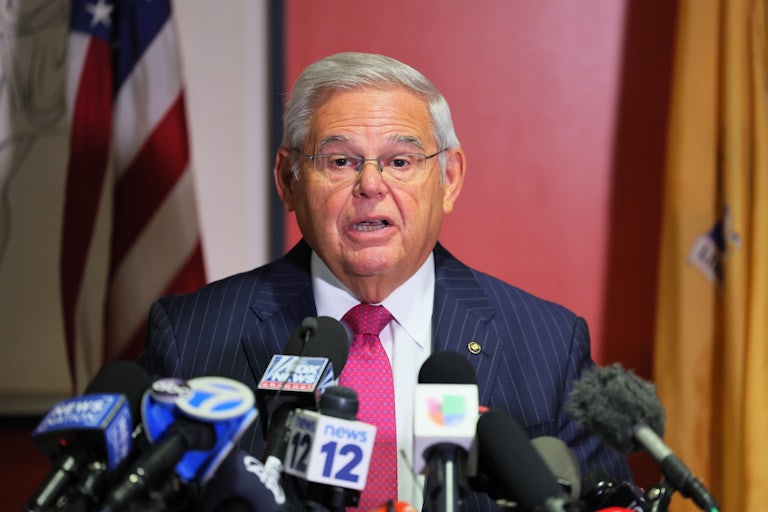 Michael M. Santiago/Getty Images
New Jersey Senator Bob Menendez has an insanely lame excuse for the $480,000 in cash federal investigators discovered at his home.

Last week, Menendez and his wife were indicted on federal bribery charges. The indictment accuses Menendez of accepting hundreds of thousands of dollars in cash, gold bars, and "luxury vehicle and home furnishings."
In exchange for the bribes, Menendez, who is chair of the Senate Foreign Relations Committee, agreed to use his power to boost three New Jersey businessmen and benefit the government of Egypt, according to the indictment.

At a press conference Monday morning, Menendez said that the $480,000 investigators discovered in his house was money he'd withdrawn in case of an emergency.

"For 30 years, I have withdrawn thousands of dollars in cash from my personal savings account, which I have kept for emergencies," Menedez said, making no mention of the gold bars that were also discovered in his home and are worth an additional estimated $155,000.
Menendez said that he was compelled to do this because of his family's history "facing confiscation in Cuba." It's unclear to which family Menendez—who was born in New York City in 1954, a full five years before the Castros came to power—is referring.
"This may seem old-fashioned, but these were monies drawn from my personal account based on the income I have lawfully derived over those 30 years," Menendez added. Menendez's excuse doesn't seem "old-fashioned," it just seems like a lie.
In his press conference remarks, Menendez made it clear he had no intention of resigning, and so far, no Democratic senators have publicly called for him to step down.

While some right-wing fanatics have speculated that this indictment was drummed up to create the illusion of an impartial Department of Justice, it's doubtful that Menendez, who was previously indicted on similar charges in 2015, will get off scot-free this time.