Cassidy Hutchinson Casually Destroys Matt Gaetz Over Bizarre Rumor He Started
The former White House aide dragged Matt Gaetz on live television.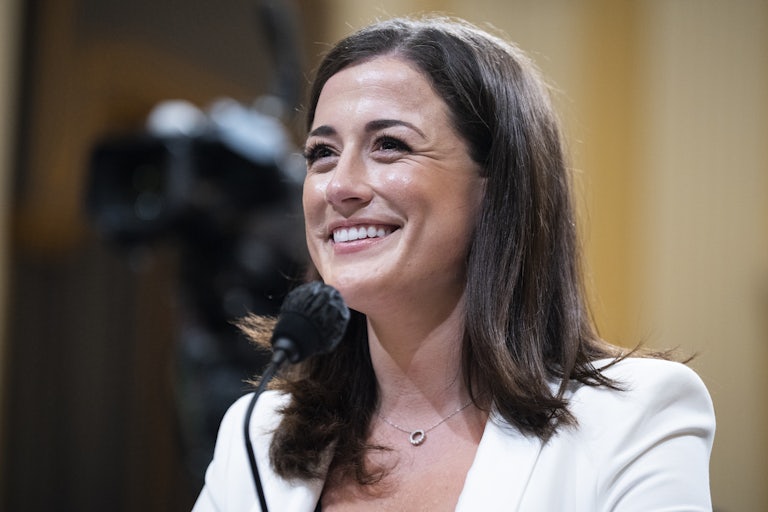 Tom Williams/CQ-Roll Call, Inc/Getty Images
Former White House aide Cassidy Hutchinson delivered a truly sick burn to Representative Matt Gaetz after he tried to claim the two of them had dated.
Hutchinson worked as the top assistant to Donald Trump's chief of staff Mark Meadows, and she eventually became a star witness for the House January 6 investigative committee. She has dropped multiple bombshells about the Trump administration in recent weeks from her new book, Enough.
In a Monday night interview on MSNBC, host Rachel Maddow read a few excerpts from the book that detail how Gaetz aggressively pursued Hutchinson. One line describes how he stroked her face while talking to her. Another passage says he tried so hard to hook up with her during a trip to Camp David that Representative Kevin McCarthy actually told Gaetz to "get a life." Hutchinson also alleges elsewhere in the book that Gaetz groped her on two different occasions.
Gaetz denied Hutchinson's claims in a statement to Maddow, but he said the pair "did date … for a few weeks years ago when we were both single."
"Matt Gaetz, in my opinion, is somebody that I personally do not hold in high regard in terms of trust," Hutchinson said. "I will say, on behalf of myself, I never dated Matt Gaetz. I have much higher standards in men. And Matt, frankly, is a very unserious politician."
"We see that today, with the ruckus that he is causing on Capitol Hill with the spending negotiations."
Gaetz, a key Trump ally, is also one of the main opponents of passing a clean continuing resolution that will keep the government open and functioning. Instead, he keeps threatening to remove McCarthy from the speakership.
Hutchinson's book also describes a chilling interaction with Rudy Giuliani. She accuses Giuliani of groping her just before Trump's speech on January 6.