Trump Is About to Get a Ton of Money From Saudi Arabia via LIV Golf
A major candidate for president is receiving money from a sportswashing venture for Saudi Arabia, ignoring the human rights abuses behind it.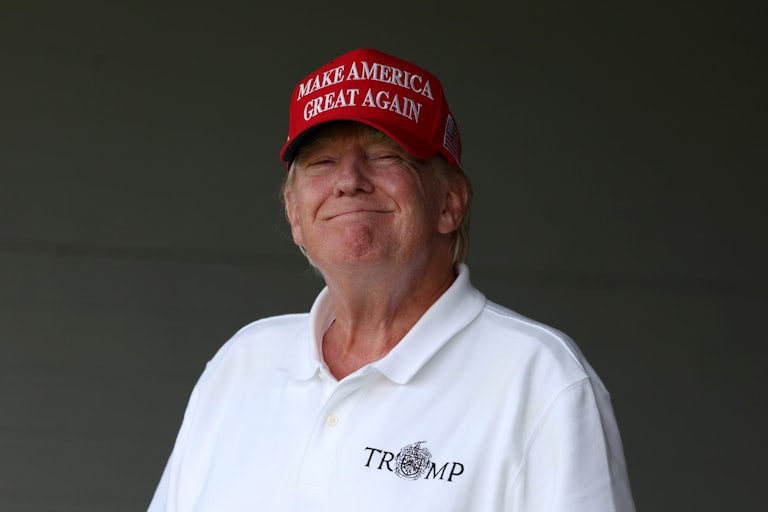 Rob Carr/Getty Images
The Saudi-backed LIV Golf League—which last month reached an agreement to merge with the North American PGA Tour—has just announced its $50 million championship will be played at none other than Donald Trump's National Doral Golf Club.
It will be the second straight year in a row that the tentacular Saudi sportswashing venture hosts its massive three-day championship at Trump's Miami resort. The event was originally slated to be played in Jeddah, Saudi Arabia, but LIV officials had reportedly been ambling to bring it back to Trump's grounds, reports ESPN.
The twice-impeached, twice-indicted, and liable for sexual abuse former president has no qualms with any of this, and is gladly taking money from a human rights abusing nation that has had no problem bullying America. Beyond constantly holding the United States hostage vis-a-vis the bargaining of the same black gold destroying our planet, the nation has gotten away scot-free for killing U.S. resident and journalist Jamal Khashoggi, among its many other human rights violations, like jailing women's rights activists and a devastating military intervention into Yemen that has displaced millions of people.
This is what the leading candidate for the Republican nomination for President of the United States is not only signing off on, but profiting from.
The Senate Subcommittee on Investigations is holding a hearing Tuesday on the PGA-LIV merger. Greg Norman, CEO of LIV, and Saudi official Yasir Al Rumayyan both declined to testify; they're both apparently too busy.