John Kelly Confirms Trump's Most Vile Comments About the Military
Former White House chief of staff John Kelly has verified all the horrid things Donald Trump said about veterans and service members.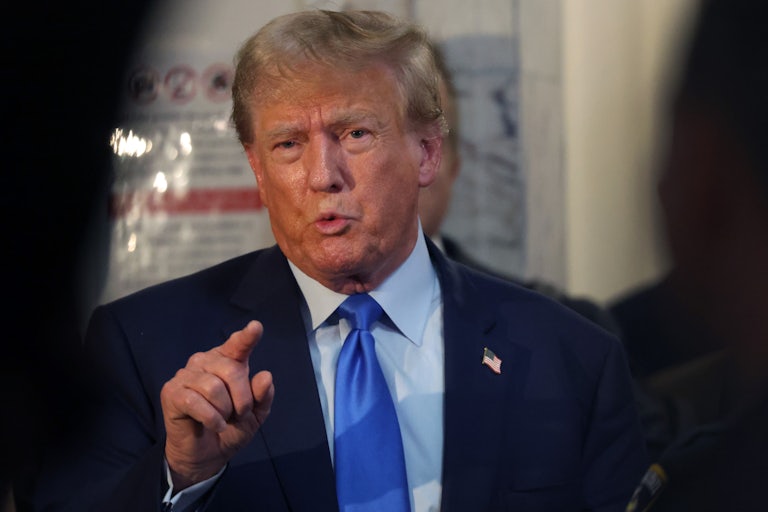 Spencer Platt/Getty Images
Former White House chief of staff John Kelly has confirmed that Donald Trump called disabled veterans "suckers" and "losers."
The Atlantic published a story in 2020 recounting Trump's visit to France two years earlier to mark the one hundredth anniversary of the end of World War I. Several senior staff members told the magazine that Trump refused to visit the graves of American soldiers buried near Paris because the cemetery is "filled with losers." Trump also said that 1,800 U.S. Marines who died in the Belleau Wood were "suckers" for getting killed.
The White House denied the story at the time, but Kelly confirmed the details in a Monday evening interview with CNN. "What can I add that has not already been said?" he said, when asked if he wanted to comment on his former boss.
"A person that thinks those who defend their country in uniform, or are shot down or seriously wounded in combat, or spend years being tortured as POWs are all 'suckers' because 'there is nothing in it for them.' A person that did not want to be seen in the presence of military amputees because 'it doesn't look good for me.' A person who demonstrated open contempt for a Gold Star family—for all Gold Star families—on TV during the 2016 campaign, and rants that our most precious heroes who gave their lives in America's defense are 'losers' and wouldn't visit their graves in France."
Kelly's comments also confirm other stories that the Trump White House previously denied. One story is that during a visit to Arlington National Cemetery on Memorial Day 2017, amid the graves of soldiers killed in Iraq and Afghanistan, Trump asked Kelly, "I don't get it. What was in it for them?"
They were standing in front of Kelly's son's grave at the time.
Kelly's statement on CNN also confirms the story that, during a 2017 visit to France, Trump said he didn't want any wounded veterans in a military parade he was trying to have planned for himself. "It doesn't look good for me," he said.
Kelly decried Trump's recent attacks on newly retired Chairman of the Joint Chiefs of Staff Mark Milley. Kelly was furious that Trump suggested that Milley "should lose his life for treason—in expectation that someone will take action."
Trump is "a person that has no idea what America stands for and has no idea what America is all about.… A person that has nothing but contempt for our democratic institutions, our Constitution, and the rule of law," Kelly said. "There is nothing more that can be said."
"God help us."