Now That You've Found Him, the Twitter "Menswear Guy" Would Like to Talk to You About Fast Fashion
Derek Guy, @dieworkwear, doesn't know why he's suddenly on so many people's timelines. But he would like to talk to you about how to dress well and sustainably.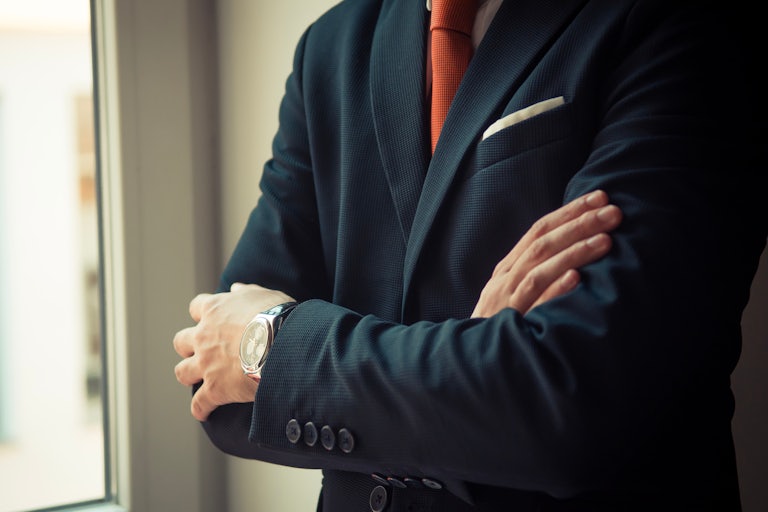 Daniel Andruseyko/Unsplash
Twitter has a seemingly ever-changing layout and algorithm. Now there's the "For You" timeline, the default setting instead of a timeline of people one follows. And more often than not, people are finding tweets on that new timeline to … not really be "for them," or at least they wouldn't think so. And now, for some reason or other, the algorithm appears to curiously be pushing Derek Guy, an innocuous menswear writer, onto a not insignificant number of people's timelines.
Algorithms can work in strange ways. The preponderance of Guy's posts on people's timelines could be explained by any number of reasons: His posts often have high engagement, which is good for the algorithm, or perhaps many of the people being pushed toward Guy's posts are in concentric Twitter bubbles, so posts recommended to one person are recommended to another—and the whole coincidence is just socially manufactured and self-fulfilling. Maybe it's all the workings of a lone, fun-seeking Twitter engineer.
The mystique behind why Guy's appearing on the timelines of many has become a bit of a meme, but the intrigue in his virality somewhat overshadows what Guy actually wants to talk about: the labor crisis born from fast fashion, the ways liberalism may have influenced clothing consumption, and how we can adopt a more thoughtful approach to fashion. Guy and his posts are more than just an accidental discovery from an algorithm. But still, he knows what everyone is asking. Why is he suddenly showing up on their Twitter feed?
"I don't have any secret insight into their code," Guy says, shruggingly. "But my guess is that the stuff that I post gets a lot of likes and comments." Whatever the reason, Guy has seen the impacts, gaining some 30,000 of his now 110,000 followers in the past month.
The man behind the handle is more than a manifestation of the oddities of Elon Musk's Twitter, though. Guy, in fact, seems to embody characteristics antithetical to the algorithms of our time, which thrive on high-octane emotion and short attention spans. Peppered with good-natured quips, most of Guy's online activity involves explaining strategies for how to dress well, sustainably, and efficiently—in great detail and care.
"I love wearing clothes," Guy chuckles. "It sounds absurd, but I do like clothes." As he grew up, Guy was surrounded by friends in the music scene, collecting items like vintage Polo Ralph Lauren. He began reading and writing about clothing, reading more and more blogs in the 2000s. French cinema, jazz, and blues led him to get more interested in suits and tailoring, specifically.

"I got my horn-rimmed glasses—sounds so corny, but I was young and I was really into jazz and French New Wave—because of Bill Evans and Malcolm X," Guy says. "I thought those two guys were supercool."
Guy began spreading his passion to Tumblr, posting waves of menswear photos on a site where people would typically post one or two. The positive responses prompted him to write short posts about the photos, which would garner even further positive responses, beckoning him to write even more. Soon, Jesse Thorn, editor of menswear site Put This On, asked him to write for the site.
That chance set him on his path to become a prominent voice in the space, writing for sites like Put This On, The Washington Post, and Esquire.
All this dedicated time and effort has led Guy to reflect on how fashion represents one's cultural background and the broader cultural forces connected to those backgrounds.
"Just yesterday I saw this older woman who was wearing a black cardigan, but the pockets and trims were a furry, leopard material, and she decorated her walking stick with the tinsel you'd use for a Christmas tree and she was wearing really brightly colored shoes," Guy recalls. "And that was like a nice thing to see. It's nice to see someone who's older who takes such joy in daily dress. You know, to wrap tinsel around something that is sometimes considered like a handicap."
That kind of intentionality and ingenuity is what Guy is concerned society is losing. He worries that the infinite amount of choices consumers have has led some to buy cheap, freely—without much concern for longevity or for the material conditions of those who made the clothes.
"In my heart, the thing that worries me most about fast and cheap fashion is the squeezing of labor," Guy says. "When I read about the lives of garment workers, that's what gets me most emotional."
Guy believes capitalism alone isn't to blame. Liberalism, though obviously positive in relieving people of certain social constraints and granting them freedoms, may have also helped lead to a rise in fast fashion. "The infinite number of identities" people are now able to explore both embodies the freeing nature of liberalism and also perhaps opens the door for people to enter into wasteful tendencies with their wardrobes.
Guy is not some social regressive. But he has tips for people on how to both mitigate the crisis of fast fashion and enhance their wardrobes while doing it: things like building wardrobes over time, shopping vintage, and buying fewer things for more money. He explains how exploration—whether attempting to pull off rugged, or preppy, or a niche Japanese brand—can be done as effectively with one pair of trusty jeans.

Guy argues that buying things with more intention and being willing to spend slightly more ensures a higher return if and when you choose to sell them secondhand, or at least ensures that someone else will take them after you. The tendency to rely on donating clothes, while perhaps well intentioned, is misguided. If an item doesn't get picked up by someone, "the end point for that garment is typically the landfill, or the rag market in Africa, where it destroys local economies," Guy says.
The crisis of fast fashion, and how to solve it, is rife for debate and discussion. But Guy wants at least to offer people an "entry point" to fashion. Especially with his newfound audience, he describes feeling extra cautious about even the jokes he makes. "I wouldn't want someone to walk outside and think, 'Oh, do people think my shoes are lame?' That's dumb, and it'd be dumb for me to make someone feel that way," he says flatly. He says he's leaning more into posting informative threads, like style for men with larger figures. Ultimately, he is concerned with accessibility for fashion in terms of both aesthetics and ethics.
He describes how he's advocated for J Crew as an accessible pathway for newcomers into menswear, in the same fashion that Howard Zinn's work has offered an accessible pathway into politics and theory for people. "There are different paths up the mountain."
"It's so cliché, but, like everyone says, politics is in everything," Guy continues. "It's especially true in clothes. It deals with material production, so we have wages. We have environmental impact, because of the end life of the garments. And then on our very bodies, we wear clothes to project identity, which is inherently political."