Texas House Passes One of the Most Hard-Line Immigration Bills in the Country
Among other things, the bill would empower Texas to order undocumented immigrants back to Mexico (no matter where they're from).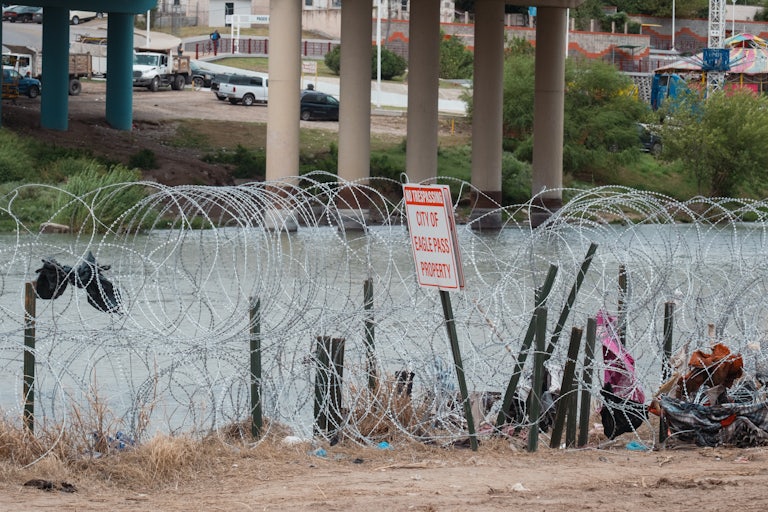 Jordan Vonderhaar/Bloomberg/Getty Images
Layers of razor wire along the Rio Grande River in Eagle Pass, Texas
The Texas House of Representatives approved a set of the most extreme anti-immigration bills in the nation on Tuesday, so extreme in fact that they could potentially lead to an international dispute with Mexico.
The first bill, Senate Bill 3, appropriates $1.5 billion in border funding and would effectively make crossing the Texas-Mexico border a state crime.
The second bill, Senate Bill 4, creates a new state misdemeanor for immigrants who enter or reenter the state illegally, with violations of the new crimes punishable by up to two years.
But that's not the only controversial part of the bill, which, if signed into law by Governor Greg Abbott, will give local and state police the authority to arrest immigrants who they suspect of having unlawfully crossed into the state, rather than federal agencies. Officers would also be allowed to transport immigrants to U.S. ports of entry for compliance. Should immigrants fail to comply, they could be slapped with a second-degree felony, punishable by up to 20 years in prison, according to the bill.
S.B. 4 will also allow judges the ability to order undocumented immigrants to return to Mexico in lieu of prosecution, regardless of the country they are actually from.

The bill additionally includes financial provisions to send state troopers to patrol a housing development near Houston that far-right media has lambasted as a haven for undocumented immigrants, reported The Texas Tribune.
In an effort to dampen the blow of the extreme legislation, Democrats proposed dozens of amendments to the bill, including language that would exclude immigrant children, human trafficking victims, and sexual assault victims, reported the outlet. None of those amendments were adopted.
Opponents to the bill, which emerged as part of a fourth round of a special immigration-focused legislative session ordered by the governor, have criticized S.B. 4 and its proponents as racist.
"There is no U.S. federal analog to a lone officer in their own discretion escorting someone to the border and saying get out," David Donatti, a senior staff attorney with the Texas ACLU, told ABC News. "That is a very scary prospect that is categorically different from what the federal government does. In addition to that, in the federal system people would be able to present their claims to an immigration officer and an immigration judge."
The bill is now on its way to Abbott's desk, where it will almost undoubtedly be signed into law.