You Won't Believe How Much AIPAC Is Spending to Target the Squad in 2024
A new report reveals how AIPAC has set its sight on challenging the Squad in the 2024 primaries, as they continue to criticize Israel's war on Gaza.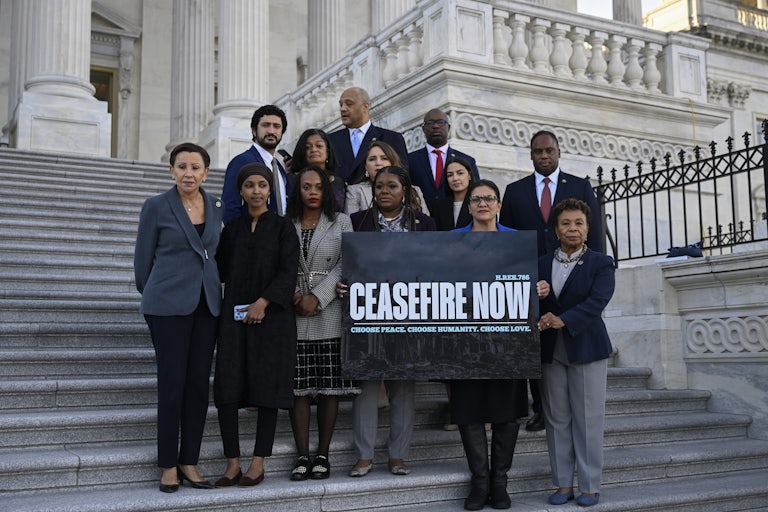 Celal Gunes/Anadolu/Getty Images
Several members of the Squad, and other representatives, hold a banner demanding a cease-fire and condemning the Israeli attacks on Gaza, in front of the Capitol on November 8.
One of the biggest political operations in Washington is gearing up to take down the Squad, the Democratic cohort that has heralded progressive policies from the Green New Deal to tuition-free college, throwing major dollars behind primary challengers they believe can unseat them in their 2024 reelection campaigns.
The American Israel Public Affairs Committee, or AIPAC, is expected to spend at least $100 million in the Democratic primaries in an effort to knock out the seven "Squad" members, reported Slate. They include Representatives Alexandria Ocasio-Cortez, Ilhan Omar, Rashida Tlaib, Ayanna Pressley, Cori Bush, Jamaal Bowman, and Summer Lee—all Black and brown members of Congress who have been vocal critics of Israel's war on Gaza.
The Israeli lobby's counter effort will likely only be the beginning of a very tumultuous battle for the Squad to retain their seats. Affiliated super PACs, including the Democratic Majority for Israel PAC and the Mainstream Democrats PAC, are also expected to throw cash at the drive to unseat the seven, who have been outspoken in their opposition to Israel's occupation and continued military bombardment of Palestine.
The United Democracy Project super PAC has already launched a six-figure ad campaign against Bowman, Lee, and Kentucky Republican Thomas Massie after the trio voted against a House resolution to stand with Israel against Hamas.
And Bush, Bowman, Lee, and Omar are already facing Democratic primary opponents in their districts, still a year out from the election, thanks in large part due to the aggressive recruiting efforts and expenditures from AIPAC.