"Unconstitutionally Vague": Federal Judge Smacks Down Texas's Drag Ban
This is a major setback for those in Texas waging war against drag performers.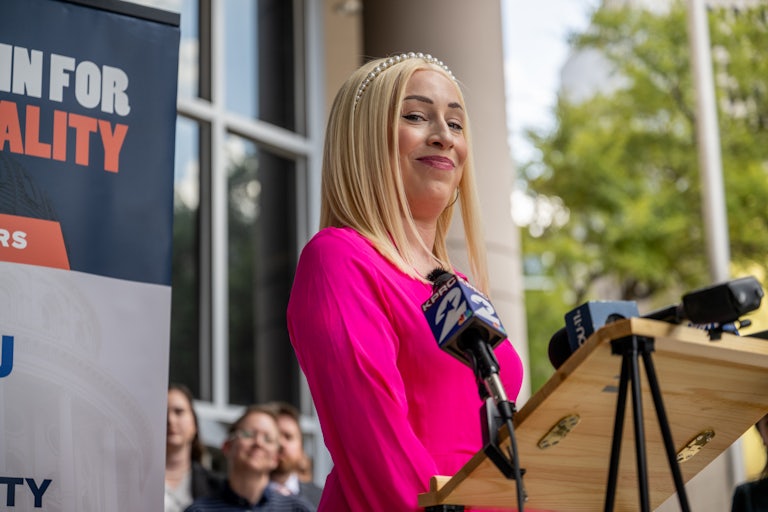 Brandon Bell/Getty Images
Austin, Texas, drag queen Brigitte speaks after a court hearing for Texas's anti-drag law, S.B. 12, at the Bob Casey United States Courthouse on August 29 in Houston.
A federal judge ruled Tuesday that Texas's drag ban law is unconstitutional, and permanently blocked all state officials from enforcing the measure.
Governor Greg Abbott signed the extreme law in June, making Texas the fourth Republican-led state to enact such a law. The measure was written so broadly that opponents worried it would create a host of unforeseen issues beyond just targeting drag shows.
Judge David Hittner ruled that the law was "unconstitutionally vague," "unconstitutionally overbroad," and discriminatory.
"Not all people will like or condone certain performances. This is no different than a person's opinion on certain comedy or genres of music, but that alone does not strip First Amendment protection," he said in his ruling.
"However, in addition to the pure entertainment value there are often political, social, and cultural messages involved in drag performances."
The law criminalized any performances that occurred or could have occurred in front of a minor if they are of a sexual nature. Performers could be charged with a misdemeanor (and face up to one year in jail, a $4,000 fine, or both), while any business that hosted the show would face a $10,000 fine. The bill's sponsor stripped out any specific references to drag, but opponents argued the vaguely worded legislation was still targeting LGBTQ people.
A group of lawyers previously told The Dallas Morning News that the vague wording could also restrict performances by artists such as Madonna and Miley Cyrus, bachelorette parties, cheerleading, and could even criminalize sexual conduct between consenting 17-year-olds (17 is the age of consent in Texas).
Hittner also referred to a recent federal case that banned a drag performance. Judge Matthew Kacsmaryk, best known for trying to ban the abortion pill mifepristone, ruled last week that West Texas A&M University had not violated the First Amendment by prohibiting students from hosting a drag show earlier this year.
In a letter to the student body, the university president compared drag shows to "blackface." "Drag shows stereotype women in cartoon-like extremes for the amusement of others and discriminates against womanhood," Walter Wendler wrote. "Drag shows are derisive, divisive and demoralizing misogyny, no matter the stated intent."
In Tuesday's ruling, in the politest legalese possible, Hittner told Kacsmaryk he could stuff it: "The president's sentiment reinforces this Court's opinion that while some people may find a performance offensive or morally objectionable, it does not mean the performance is not expressive or given First Amendment protection."