No One Wants to Be in Congress Anymore
Ongoing dysfunction is pushing several lawmakers to retirement.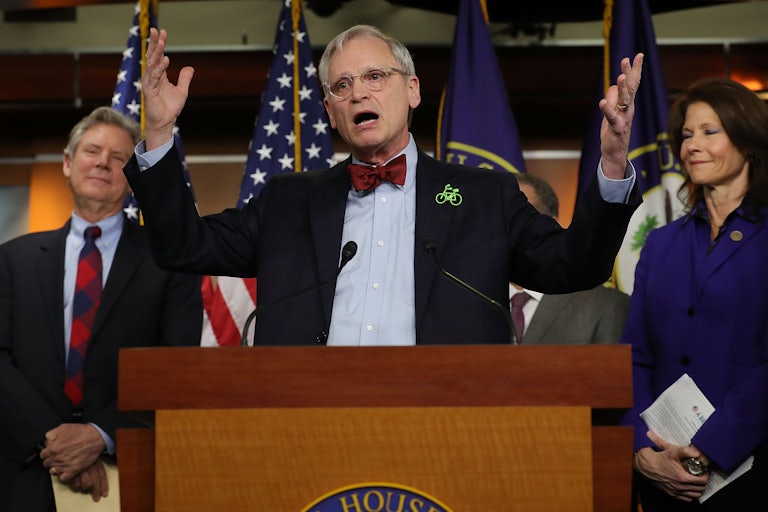 Chip Somodevilla/Getty
Representative Earl Blumenauer, who announced his retirement last month
A growing number of politicians have decided that the rat race to the highest echelons of government is simply not worth the effort anymore.
Oregon Representative Earl Blumenauer announced his retirement last month, joining 28 other members of the House who've recently decided to pull the plug on their legislative careers. Other recent evacuees of Capitol Hill include Texas Representative Michael Burgess and Arizona Representative Debbie Lesko.

The mass desertion follows several weeks of chaos, including historic infighting among the Republican caucus that led to the ousting of former House Speaker Kevin McCarthy, as well as actual fighting between McCarthy and Representative Tim Burchett, one of the members who voted for him to lose the coveted position.

Meanwhile, on the other side of the Capitol Building, Senator Markwayne Mullin threatened to brawl with a committee witness, general president of the International Brotherhood of Teamsters Sean O'Brien.

Amid the high drama, the House has teetered on the brink of a government shutdown several times over the last several months, opting each time to dismiss it with a stopgap spending measure rather than get to work on a bona fide budget. After passing yet another stopgap resolution, parts of the government will run out of funding in mid-January.

So far, 19 Democrats and 10 Republicans have decided to disconnect from the House, though out of that number, 16 members are planning to run for separate offices, reported The Washington Post.

That may not be an atypical resignation number for any year, but some politicians argue that the value of those retirements, which constitute several senior members and signify a sizable loss of expertise, will be felt for years to come.

In 2021, almost 46 percent of House members had served for less than five years, according to data from the Center for Effective Lawmaking—up 12 percent from nearly two decades prior.

"It's not the quantity of retirements. It's the quality," former Representative Steve Israel told the outlet. "These are people who really understand how to get things done."

But the recent slew of resignations could just be the tip of the iceberg, reported the Post, which hypothesized that another wave could be forthcoming after the holidays.