Krispy Kreme Forced to Give $1.2 Million to Workers After Massive Wage Theft
The Labor Department ordered Krispy Kreme to pay the sum after "overtime violations in multiple locations."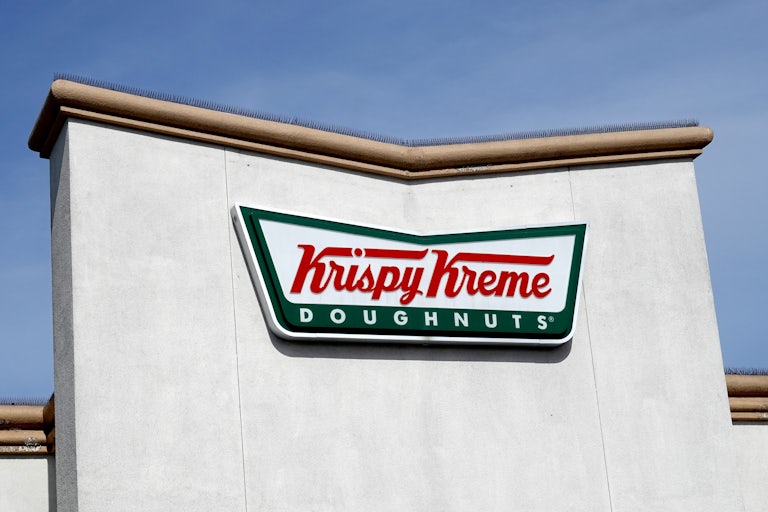 Justin Sullivan/Getty Images
On November 17, the Department of Labor announced that Krispy Kreme would be paying nearly $1.2 million in back wages and damages to 516 workers "to resolve overtime violations in multiple locations." In other words, there was massive wage theft at the doughnut company and now it has to pay up.
The department first began its investigation at a Louisville, Kentucky-based Krispy Kreme, but it soon found violations to be "widespread and systemic" and expanded its probe to all 242 locations across the country.
The department determined that the $2.5 billion company had failed to include monthly bonuses in some employees' regular pay rates, consequently paying workers less overtime.

"Overtime and minimum wage violations are common violations found in food service industry investigations," said Principal Deputy Wage and Hour Administrator Jessica Looman in the Labor Department's directive.

Because of that, actions like this directive would ideally serve both as consequence for malpractice and also as a warning to other companies that there indeed are accountability mechanisms for stealing from workers.
Meanwhile, Krispy Kreme denies it did anything wrong at all. "We do not agree with the department's findings and the basis for them," Krispy Kreme said to USA Today. "However, we have agreed to settle this matter with no admission of wrong-doing in the best interests of our business and our team members."
While the amount owed back to each worker varies, the math averages out to about $2,300 per worker. According to court documents obtained by the Winston-Salem Journal, some workers are due upward of $13,000.