Mark Meadows Ordered to Testify on Georgia 2020 Election Interference
The former White House chief of staff was on the line when Trump called Georgia's secretary of state, pressuring him to "find" votes.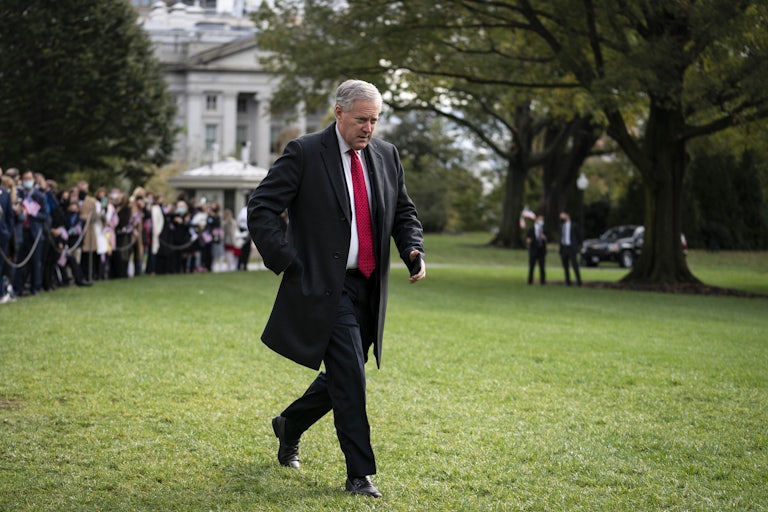 Sarah Silbiger/Getty Images
South Carolina's Supreme Court on Tuesday unanimously ordered former White House chief of staff Mark Meadows to testify about efforts to overturn the 2020 election results in Georgia.
"We have reviewed the arguments raised by [Meadows] and find them to be manifestly without merit," the justices wrote.
The ruling affirmed a lower court that required Meadows to testify to the grand jury investigation. Meadows had appealed the decision but was rejected by the state supreme court.

Meadows was initially scheduled to testify on November 30. It is yet to be determined if that appearance will remain on time.
The former White House chief of staff was involved in numerous efforts to meddle with the 2020 election results. In December 2020, Meadows attended a White House meeting with Trump and others, where the topic of discussion was voter fraud and state electoral vote certifications. The very next day, Meadows traveled to Georgia, seeking to observe an audit of absentee ballot signatures.
Meadows also sent emails to Justice Department officials, demanding investigations into baseless claims of voter fraud. And in January 2021, Meadows was on the line as Trump called Georgia Secretary of State Brad Raffensperger, pressuring him to "find 11,780 votes," the amount needed to win Georgia.
The rejection of Meadows's appeal follows an earlier attempt by him to avoid complying with the investigation. In October, a South Carolina county judge entertained Meadows's challenges but promptly deemed him "material and necessary" to the Georgia investigation, compelling him to testify.
The investigation first began in February 2021, spurred in part by Trump's plea to Raffensperger—again, a call that Meadows participated in. Since then, the probe has investigated and subpoenaed dozens of witnesses including Boris Epshteyn, Rudy Giuliani, Newt Gingrich, Michael Flynn, and Lindsey Graham (who similarly unsuccessfully tried appealing out of the investigation).