Nikki Haley Says Raphael Warnock Should Be Deported. But... to Where?
The Indian American, who has registered as white and said America is "not racist," says we should deport a Black American citizen.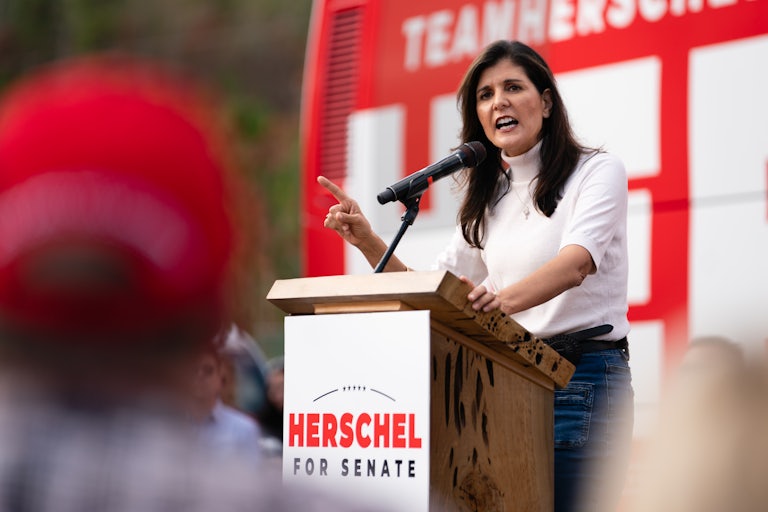 Elijah Nouvelage/Getty Images
Former South Carolina Governor Nikki Haley thinks that America should deport Senator Raphael Warnock. It's not clear where exactly she wants to deport him to, given that he was born in Savannah, Georgia.
Haley called for the deportation of Georgia's first Black senator at a rally in Hiram, Georgia on Sunday, as she stumped for Warnock's Republican challenger, Herschel Walker.

"Legal immigrants are more patriotic than the leftists these days," she said. "They worked to come into America and they love America. They want the laws followed in America. So the only person we need to make sure we deport is Warnock."
Haley and Republicans have used Walker's candidacy against Warnock as proof that the GOP is not marred by racism. They've argued that suggestions of American racism are actually what is hurting America, rather than the racism itself.

"The biggest threat we have is happening inside our country: all of these people who are saying America is bad, and America is racist, and America is oppressed," Haley said at the rally. "If America was racist, I wouldn't have been elected the first female minority governor in the country."
Figures like Haley and Walker serve as tokens to both excuse America's racism and further reinforce it. A race between two Black men is still absolutely a race about race when one candidate is openly concerned about racial inequality, and the other is deployed by a party apparatus to fictionalize that it doesn't exist.
Last month, Lindsey Graham described perfectly what Walker does for Republicans. "He changes the entire narrative of the left: we're a party of racists," Graham said. "Well, what happens when the Republican party elects and nominates Herschel Walker, an African American, Black Heisman trophy winner? …It destroys the whole narrative."
Haley herself is no stranger to oscillating between the purveyor and object of the Republicans' race-blind strategy.
Haley, born Nimrata Randhawa, is the daughter of Indian immigrants, but she registered herself as "white" on her 2001 voter registration card. She invoked her Indian roots to back Donald Trump's 2020 presidential bid, claiming "America is not a racist country," in the same breath that she recounted discrimination her family has faced upon immigrating to America.

It's a shame how long Haley has played the game—and how long she's allowed herself to be played too.