Counterprotesters in Texas Turned an Attack on a Drag Show Into a Giant Party
LGBTQ activists and allies showed up to counterprotest a far-right attack in San Antonio, and their numbers were so big that one reporter said it became an "open air party."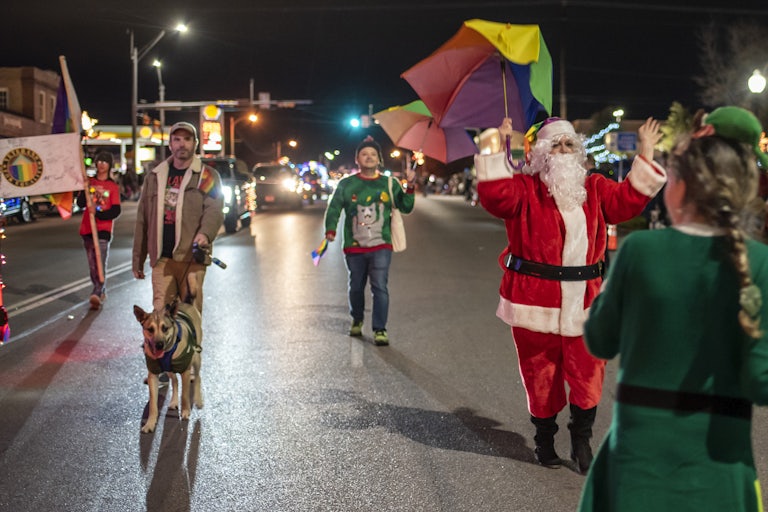 The Washington Post/Getty Images
Members of Taylor Pride march in a Christmas parade on December 3 in Taylor, Texas.
LGBTQ activists and allies in San Antonio, Texas, turned a far-right attack on a drag show into an open-air party.
On Tuesday night, armed members of "This Is Texas Freedom Force," which the FBI calls an "extremist militia group," protested outside San Antonio's Aztec Theatre as it hosted a drag show.
The protesters carried signs reading "Stop Groomers and Pedos," while members of the San Antonio Family Association were also in attendance, waving signs reading "Marriage = Husband + Wife," and "Honk for Marriage."

But counterprotesters showed up in even bigger numbers on Tuesday, and according to Texas Observer reporter Steven Monacelli, they turned the night into a giant party.
A November report from GLAAD found that drag events faced at least 124 significant threats, just this year. Last week, another San Antonio venue, The Starlighter, canceled drag events for the rest of year due to safety threats and harassment.
Many of the far-right protesters on Tuesday came bearing arms, and so too did the counterprotesters, including a military veteran who sported a "FCK NZS" patch on his vest as he sought to support LGBTQ people.
In a basic sense, it's obviously disheartening to see people take up arms against one other. No less while one side—whether by forced delusion from profiteering right-wing hacks or their own entrenched reactionary views—seeks to strip away fundamental civil rights from people.
On the other hand, the manner in which masses showed up to defend those whose rights are under attack is animating.

This kind of protest—one that presents a rejection of the restrictive and angry nature of reactionary conservatism—is profound. The counterprotesters, in their "open air party" allyship, showcased what can come from sharing compassion and love and radical empathy with people. That kind of joy can maintain a movement and can perhaps welcome others to join, even those who may have been seen as "too far gone."