Capitol Police Honored for January 6 Refuse to Shake Hands With McConnell, McCarthy
"They're just two-faced," said the mother of Capitol Police Officer Brian Sicknick, who died after being injured in the riot.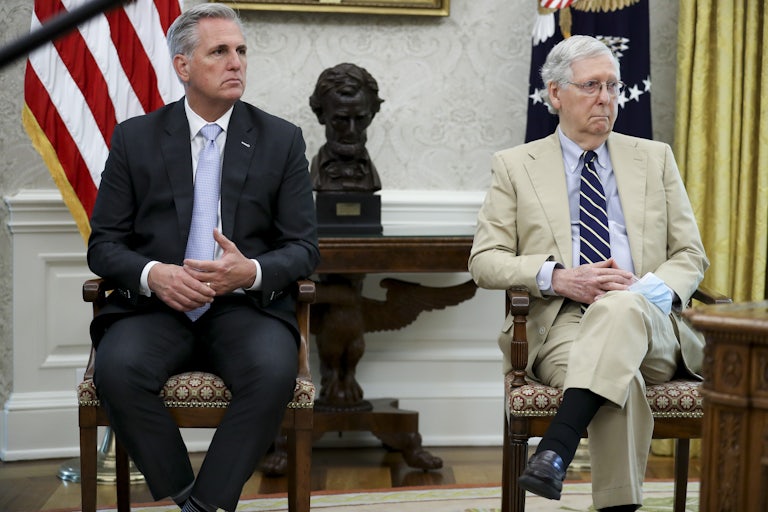 Oliver Contreras/Sipa/Bloomberg/Getty Images
In a scathing indictment, police officers ignored Republican leaders during a congressional ceremony Tuesday honoring law enforcement for defending the U.S. Capitol on January 6, 2021.
Nancy Pelosi, Chuck Schumer, Mitch McConnell, and Kevin McCarthy presented the officers with Congressional Gold Medals, Congress's highest honor. The medals will be displayed in the U.S. Capitol Police headquarters, the Metropolitan Police Department, the Capitol, and the Smithsonian Institution to recognize the hundreds of officers who tried to fend off the insurrection by Donald Trump supporters.
During the ceremony in the Capitol Rotunda, the Democratic and Republican Party leaders stood in a line to greet the medal recipients, who included the parents of officer Brian Sicknick, who died after the riot. The officers and Sicknick family could clearly be seen in video shaking hands with Pelosi and Schumer but simply walking past McConnell and McCarthy.
"They're just two-faced. I'm just tired of them standing there and saying how wonderful the Capitol Police is, and they turn around and … go down to Mar-a-Lago and kiss his ring," Sicknick's mother, Gladys Sicknick, said. "It just hurts."
Sicknick's brother Ken Sicknick said, "They have no idea what integrity is. They can't stand up for what's right and wrong."
Police officers were brutally attacked during the January 6 riot by Trump supporters trying to overturn the 2020 election. In harrowing testimony, both to Congress and the House January 6 investigative committee, officers described their enduring physical and mental scars, with some detailing near-death experiences.
Two police officers died by suicide in the days after the riot. Officer Brian Sicknick collapsed when an insurrectionist sprayed him with a chemical, and he died the next day. That summer, two more officers took their own lives.

McCarthy and McConnell, both avid Trump supporters while he was in office, have failed to publicly take a firm stance on his involvement in January 6. Although they both condemned the riot, they have been careful to avoid implicating Trump directly. McCarthy has also refused to comply with a subpoena from the House select committee investigating the attack.
McConnell voted to acquit Trump during his historic second impeachment for involvement in the insurrection, and neither man has spoken out against his planned 2024 run for president, implying support.
Congress voted last summer to award the medals. Although the measure passed unanimously in the Senate, 21 House Republicans voted against it.