Lauren Boebert Says She Prays That Joe Biden's "Days Be Few" in Texas Sermon
The Colorado congresswoman referenced a biblical verse calling for the death of an enemy. Then she laughed.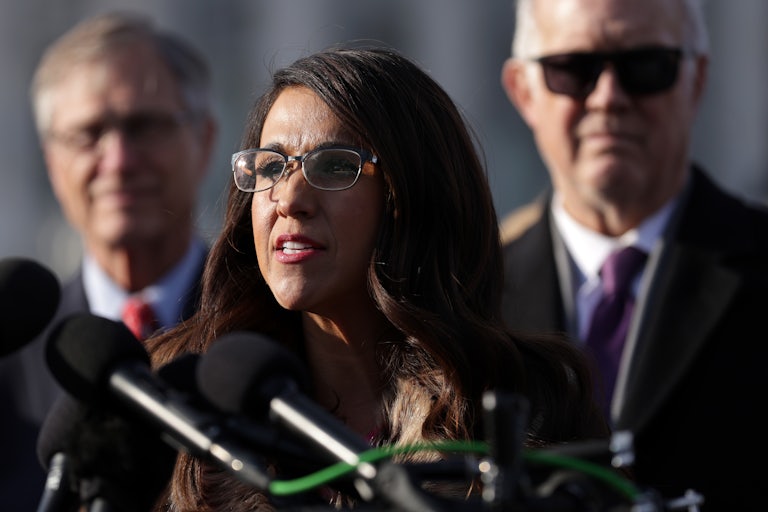 Alex Wong/Getty Images
Over the weekend, Representative Lauren Boebert visited the Storehouse Dallas Church in Texas, where the congregation opened up the stage for the Colorado congresswoman to preach to them. During her "sermon," she professed her deepest hopes, the fundamental beliefs and wishes she imbues her faith into. In particular, she appeared to pray for the death of President Joe Biden.
"Joe Biden's president. We don't know what to do, Lord!" Boebert said. "It's all right, we pray for our presidents. You know, it says, 'Let his days be few and another take his office.'"
"That's why I filed articles of impeachment for Joe Biden," Boebert added. "Unfortunately, he does have a really great insurance policy named Kamala Harris," she finished with a chuckle.
The implication was not just about Biden's days in office being few.
Boebert said a similar line last June, and specified the noted Bible verse she was referencing, Psalm 109:8, which reads, "Let his days be few; and let another take his office." The following line of the verse reads, "Let his children be fatherless, And his wife a widow." The surrounding lines call for "evil to oppose" the enemy, for the enemy's descendants to "be cut off, their names blotted out from the next generation."
Boebert appears to have now unapologetically, and repeatedly, prayed for Biden's death.

Meanwhile, Representative Marjorie Taylor Greene—who, along with Boebert, helped incite a riot on the Capitol, was a special event guest alongside self-proclaimed Nazi and Hitler-lover Nick Fuentes, and has spread conspiracies about Parkland and Sandy Hook—presided over the House on Monday.
The pair's prominence in the party and freedom to continue behaving so egregiously without any consequence from their own ranks lies in stark contrast to Republicans' shameless removal of Representative Ilhan Omar from the House Committee on Foreign Affairs last week.