Fox News Hosts and Higher-Ups Secretly Mocked Donald Trump's Election Conspiracy Theories
A new lawsuit reveals text messages between Fox News staffers that show they didn't believe Trump's conspiracies, even as they pushed them to their viewers.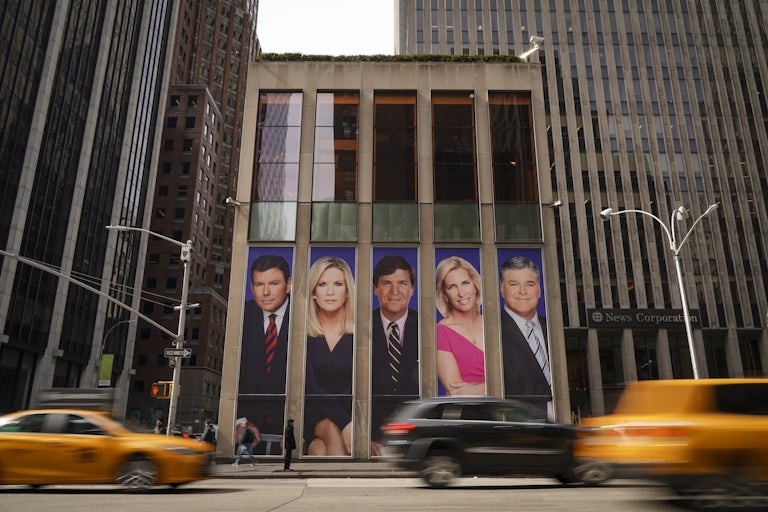 Drew Angerer/Getty Images
Fox News personalities Bret Baier, Martha MacCallum, Tucker Carlson, Laura Ingraham, and Sean Hannity, adorn the front of the News Corporation building.
Fox hosts including Tucker Carlson, Laura Ingraham, and Sean Hannity all thought conspiracy theories surrounding the 2020 presidential election were a bunch of baloney. At least, that's what their own words express in newly-surfaced texts released by a $1.6 billion lawsuit against the network.
After twice-impeached former President Donald Trump lost to President Biden, he primed the pump of conspiracy theories about the outcome of the election: fraud, stolen votes, suspicious machines, you name it. Two of the people helping stir up these theories were Trump's lawyers, Rudy Giuliani and Sidney Powell. The pair spent a considerable amount of time pushing a conspiracy theory about election technology companies Dominion and Smartmatic, accusing them of conspiring to flip votes from Trump to Biden.
The theory was, of course, false, and was rejected in court. Afterwards, Dominion sued the pair for defamation and filed a massive $1.6 billion lawsuit against Fox News for its role in propagating the conspiracy theories and lying to their viewers.
In the latest filing of the lawsuit, numerous Fox employees were revealed to have expressed their concern both about the conspiracy theories, and the purveyors of them—including some even among their own ranks.

"Sidney Powell is lying. Fucking bitch," Carlson told his producer Alex Pfeiffer.
"Sidney Powell is a bit nuts," Ingraham texted Carlson and Hannity. "Sorry but she is."
"F'ing lunatics," Hannity said about the theories and Fox guests promoting them.
Just as well, even while they may seem to have understood (as even a fifth grader could) the absurdity of these claims, the trio's hands were still very dirty. On November 12, 2020, in a group chat, the three complained about Fox reporter Jacqui Heinrich fact-checking a tweet by Trump that mentioned Hannity's and Lou Dobbs's broadcasts about Dominion. Heinrich merely pointed out that election officials said there was no evidence of voting system malfunctions. Straightforward enough.

"Please get her fired. Seriously…What the fuck? I'm actually shocked," Carlson told Hannity.
Hannity responded, saying he had already sent Henrich's fact-check to Fox News CEO Suzanne Scott. He continued "I'm 3 strikes. Wallace shit debate[.] Election night a disaster[.] Now this BS? Nope. Not gonna fly. Did I mention Cavuto?"
Scott texted Fox News Senior Executive VP for Corporate Communications Irena Briganti that "Sean texted me." "She [Heinrich] has serious nerve doing this and if this gets picked up, viewers are going to be further disgusted." Heinrich deleted her basic fact-check tweet by the next morning.
Given the Fox's big three themselves openly hosted and supported these "lunatics," some of their own coworkers took issue with them, too.

"If Trump becomes a sore loser we should watch Sean especially and others don't sound the same," Murdoch wrote in a message to Scott, expressing concern about hosts aligning with Trump and his conspiracy theories.
"Crazy Tucker and crazier Hannity," Brian Farley quipped about the duo. "Hannity is a little out there," said Fox SVP and former Trump Deputy Press Secretary Raj Shah.
"This dominion shit is going to give me a fucking aneurysm—as many times as I've told Laura [Ingraham] it's bs, she sees shit posters and trump tweeting about it…" Ingraham producer Tommy Firth texted to Ron Mitchell, one of the executives who oversees Ingraham's show.
Ultimately, the texts reveal how little Fox cares about actually delivering news, or about the consequences of that indifference (like a riot in the Capitol). Moreover, it reveals how little they think of their audience, even while showrunners themselves know they are serving their viewers "bs."
As Fox producer Justin Wells texted Carlson's producer: "We're threading a needle that has to be thread because of the dumb fucks at Fox on Election Day. We can't make people think we've turned against Trump. Yet also call out the bullshit. You and I see through it. But we have to reassure some in the audience."