GOP Rep. Byron Donalds Tells People to Stop Being Emotional After Nashville Mass Shooting
The Florida representative apparently does not think the aftermath of a mass shooting is the proper time to talk about gun control.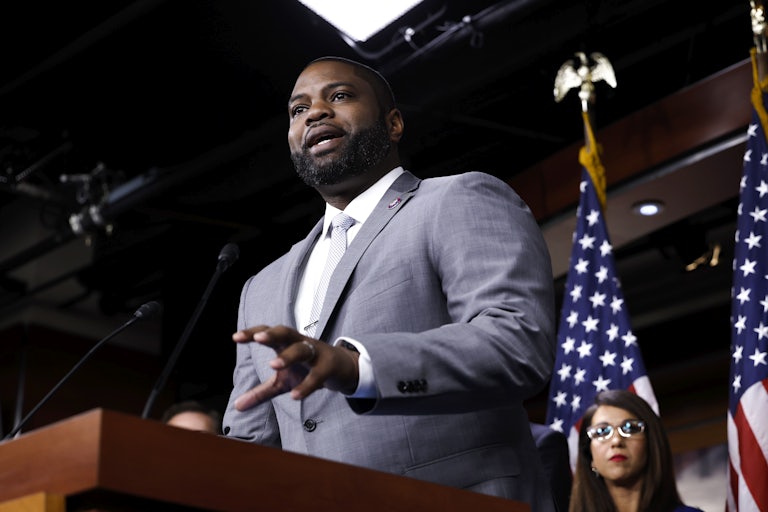 Anna Moneymaker/Getty Images
Representative Byron Donalds
Republican Representative Byron Donalds—the far right's momentary preferred House speaker choice and onetime candidate for GOP conference chair—believes discussing gun control after yet another mass shooting is getting too "into emotion."
Donalds made the claim after a school shooting in Nashville, Tennessee, in which three children and three adults were senselessly killed.
"Let's not get into emotion, because emotion feels good, but emotion doesn't solve problems," Donalds told CNN's Manu Raju.

Volumes could be written about an elected member of Congress chiding people for getting too emotional about six people being shot to death at a school (and the deep impacts that will last for the school, community, and victims' families and friends).
"People are allowed to possess firearms. Need is in the eye of the beholder," Donalds said. "I don't question why you need a blue suit, but you got one. And I know we're talking about something very, very different, but the Second Amendment allows American citizens to possess firearms," Donalds continued, advancing the ludicrous analogy anyway.
Note, of course, on the basic level of what one chooses to wear, nudity and public decency laws still place reasonable regulations on how people dress in public. Even in Donalds's wild analogy, the logic doesn't hold; and if you were to take into account the levels of scale between apparel choice and possession of machines meant for killing, one would imagine that proportional regulation would severely limit firearm use.
Raju picked up on Donalds's curious logic, asking the Republican why he wouldn't support at least limiting access to weapons like the AR-15.
"If you're gonna talk about the AR-15, you're talking politics now," Donalds responded.

It is unclear where the line between "political" and "not political" is in Donalds's head. Moreover, it's simply bizarre to make the distinction at all—everything a politician does is definitionally political. Donalds choosing to have no answer about how to stop kids from being shot in schools is just as "political" as him having even the ounce of integrity needed to admit there's a problem at all.
This leads to the most fundamental point: that politics itself is in fact a good thing. Politics is the exercise of channeling popular will and enacting policy with respect to it. The reason that conservatives so often decry "politics" as a bad thing is because they do not operate in accordance with the democratic will. From seeking to overturn an election in which their preferred candidate lost by seven million popular votes—an effort Donalds was involved in, by the way—to not enacting gun laws supported by upward of 80 percent of Americans, Republicans are not shy about their disdain for doing anything that most people in this country want to happen.
In any other job, such behavior would get you fired; it's beyond time the same standard is applied here.