There Was No Option but to Subpoena Mike Pence
The special counsel investigating Donald Trump's role in January 6 has subpoenaed the former vice president, a key witness in what exactly went down that day.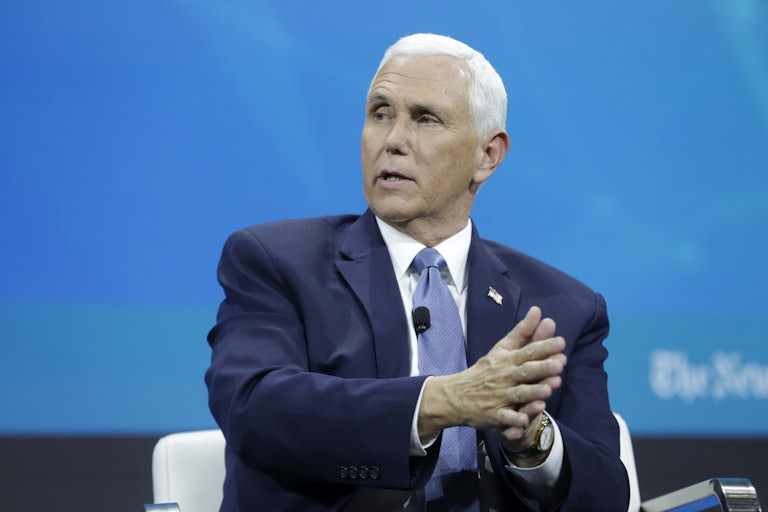 Thos Robinson/Getty Images for The New York Times
No investigation into the January 6 riot could be complete without interviewing Mike Pence, and now it may finally happen: The special counsel investigating Donald Trump's role in the insurrection has subpoenaed the former vice president.
It is not clear when Jack Smith issued the summons, which was first reported Thursday, but it should come as no surprise that he did: Pence is a key witness to both the events of January 6 and Trump's state leading up to them.
Smith was appointed in November to investigate Trump's role in the January 6 attack, as well as his handling of classified documents at his Mar-a-Lago estate, and the investigation has been slowly drawing in on the former president.
This latest subpoena is one of the clearest moves yet to investigate Trump's inner circle.
But it's unclear how much Pence will cooperate. You'd think, considering that the rioters wanted to hang him and his former boss didn't exactly have his back, he'd be willing to talk about what happened.
But the Department of Justice has been trying to get Pence to testify for months. Pence has previously said that, despite January 6 being "the most difficult day of my public life," the House of Representatives investigative committee had "no right" to his testimony.
Pence could argue he is protected by executive privilege. Trump has repeatedly claimed that executive privilege protects him against testifying in the January 6 investigation, and Pence could do the same.
That argument, though, doesn't hold as much water considering Pence has released a tell-all memoir in which he includes many details he would be asked to testify on.
Pence's refusal to testify in January 6 investigations is spineless and infuriating, but it makes sense: He is reportedly considering running for president in 2024. In interviews and his book, he has sought to distance himself from Trump, a bid to appeal to moderates and independents.
But if he were to testify, he'd have to denounce Trump, alienating his former boss's most loyal supporters in the process.