Starbucks Is Closing All Stores in a Main Union Stronghold
The corporation's union-busting efforts are escalating.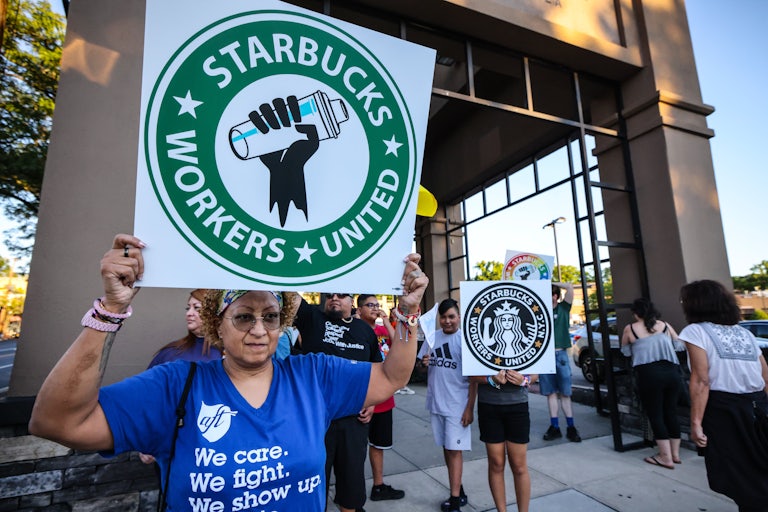 Thomas A. Ferrara/Newsday RM/Getty Images
Last year, Ithaca, New York, became the first town in the country where every Starbucks worker was unionized. Now, by the end of the month, Starbucks will have forcibly shut down all three of its unionized Ithaca locations.
The company announced its intention to close Ithaca's two remaining stores (in a town in which a large chunk of the population is caffeinated college students) on Friday.
In a recent press release, the company said they "​​continue to open, close and evolve our stores as we assess, reposition and strengthen our store portfolio." But given that all of Ithaca's stores, all unionized, have been shut down within a year, the actions seem more than simply earnestly strategic.

Last June, Starbucks shut down a location near Cornell University, a handful of weeks after the location voted 19–1 to unionize. "The College Ave location may be the single most prime property in all of Upstate NY," former Ithaca Mayor Svante Myrick wrote on Twitter. "Over 15,000 pedestrians cross it every day. There's no way it isn't profitable. This looks like union busting."
Last week, emails were revealed to show that Starbucks higher-ups were actively concerned with bad press and the workers' striking in the lead-up to their decision to shut down the campus location. Workers had complained of their hours being cut and stores being understaffed, seemingly in efforts to wear down the workers and consequently the stores themselves.
"The under-scheduling is genius on their part," Stephanie Heslop, who worked at one of the two soon-to-be-closed locations, told Jacobin. "Customers and our pitiful paychecks punish us and Starbucks can claim that it's about 'business needs.'"
Such efforts to push out employees holds potential resonance, with another Starbucks store in Buffalo, New York—among the first locations to unionize—now filing to decertify from the union. Last April (the same month Ithaca's campus location unionized), the Buffalo store voted 18–1 to unionize. Since then, it seems management has done whatever it could to turn back the clock.
"Almost every union leader at the store was fired or forced out because of the environment of intimidation and fear that Starbucks management created," a spokesperson for Workers United told local TV outlet WGRZ. "In fact, the company is currently being prosecuted for the discriminatory treatment of workers at the Del-Chip store."
It appears that if Starbucks can't outright close locations down, it's looking to simply wear out and replace the workers who unionized them. Such a notion is affirmed by the aforementioned emails, which reveal efforts from management to refuse time-off requests for student workers to go home for spring break and even double-schedule them, all in self-fulfilling anticipation of "expected turnover" for "10-14 partners in the next four weeks" (emphasis in the original email). That specific email was sent on March 4: four weeks before the store would hold its unionization vote.

With the closure of the college campus location, the two remaining locations in Ithaca logically would have only increased in foot traffic. Yet somehow, Starbucks purports that the closure of those two final locations—again, in a town whose population is significantly made up of students and faculty—is part of some ongoing detached-from-union-efforts business optimization scheme.
To be fair, Starbucks is not wholly dishonest in its logic of why it is forcibly closing stores. The closures are optimizing—just not for customer satisfaction, nor for basic worker protection and dignity, but simply for executive profits.
The revelations are not surprising. Just over a month ago, former Starbucks CEO Howard Schultz accidentally admitted that nonunion stores received better benefits than unionized stores, and he couldn't even say "no" to the question of whether he has threatened workers for unionizing.