Trump Can't Stop Lying About His Rape Trial
Even as the jury begins deliberations in the rape and defamation trial, Trump keeps shitposting on social media.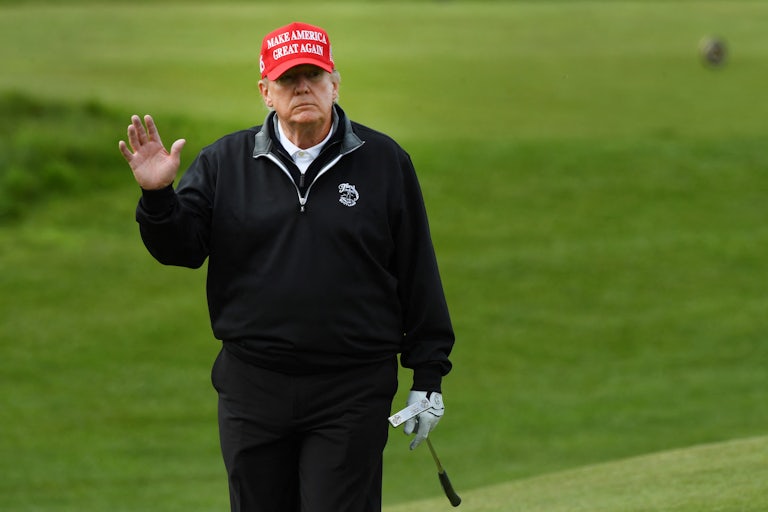 ANDY BUCHANAN/AFP via Getty Images
Donald Trump is patiently waiting with bated breath like the rest of us to see if a jury will find him guilty of raping a woman in the mid-1990s and of defaming her when she accused him of assault decades later.
Yeah, right!
A jury began deliberating Tuesday on whether the former president raped and defamed writer E. Jean Carroll, and Trump is already lying about it.
"Waiting for a jury decision on a False Accusation where I … am not allowed to speak or defend myself," Trump wrote on Truth Social. In reality, Trump refused to testify during the trial (despite an offer from the judge presiding over the case that he could do exactly that). Instead, he has repeatedly posted about it on social media, leading the judge presiding over the case to reprimand both Trump and his lawyer.
"I will therefore not speak until after the trial, but will appeal the Unconstitutional silencing of me, as a candidate, no matter the outcome!" Trump said, seemingly not seeing the irony of announcing his silence.
Carroll accused Trump in her 2019 memoir of raping her in the Manhattan Bergdorf Goodman department store in the mid-1990s. She has sued him twice for defamation: first in 2019, when he said she made up the rape allegation to promote her book, and again in November for posts he made about her on social media.
She is not the only woman to accuse him of sexual assault: At least 26 other women have done so, two of whom testified during the trial. But Carroll's case is the first to make it to a courtroom.