Kevin McCarthy Can't Control His Own Party on Debt Ceiling Talks
The pause on the debt ceiling negotiations is further proof that the House speaker isn't the real leader of his caucus. Donald Trump still is.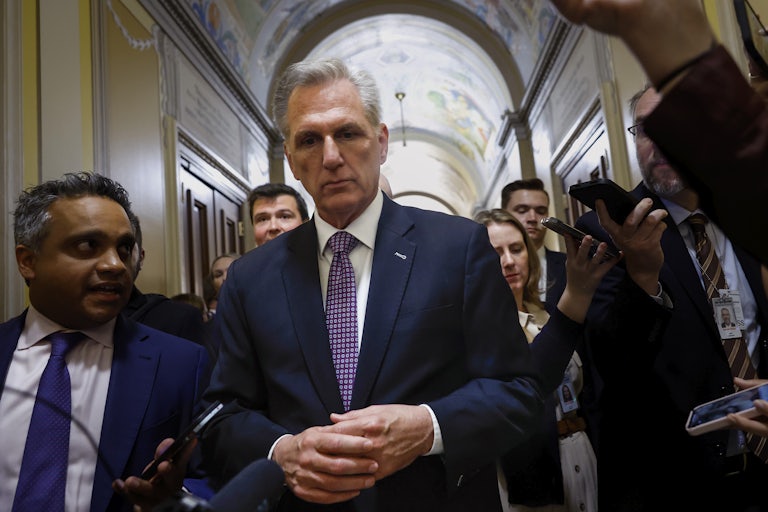 Kevin Dietsch/Getty Images
Bipartisan negotiations on the debt ceiling abruptly stopped on Friday after Donald Trump Kevin McCarthy said Republicans weren't getting enough concessions.
Democrats and Republicans have been locked in a protracted battle over the debt limit, which the GOP has indicated it's willing to hold hostage in order to reduce government spending. But with the United States just weeks away from defaulting on its debt, President Joe Biden has been meeting with party leaders to try and find a solution. There appeared to have been some progress this week.
But on Friday, Republicans pulled the plug on a meeting shortly after it began. "It's time to press pause because it's just not productive," Representative Garret Graves told reporters.
He said the talks have become "just unreasonable," and it was not clear when they would start again.
McCarthy backed up what Graves said, telling reporters, "We've got to get movement by the White House, and we don't have any movement yet. So, yeah, we've gotta pause."
AP White House reporter Chris Megerian first tweeted the news that negotiations had ended at 11:28 a.m.

Just 18 minutes before, guess who was posting on Truth Social that Republicans should stop negotiating until all of their ridiculous demands were met?

The farthest-right members of the Republican Party are fully in control. The House Freedom Caucus had already called Thursday for "no further discussion" on raising the debt ceiling until the Senate passes the GOP's budget bill. And by Friday morning, their wish became reality.
Remember that just three days ago, McCarthy said he'd be willing to continue meeting with the Biden administration "until this gets done."

The Freedom Caucus members are some of Trump's staunchest supporters in Congress, and they were also McCarthy's biggest obstacle to the speakership. He made multiple concessions to the group in order to win the gavel, and now he is entirely beholden to them. And the country will pay the price.