Wisconsin Teacher to Be Fired After Complaining About "Rainbowland" Song Ban
A Wisconsin schoolteacher is being punished for trying to have her students sing a popular song by Dolly Parton and Miley Cyrus.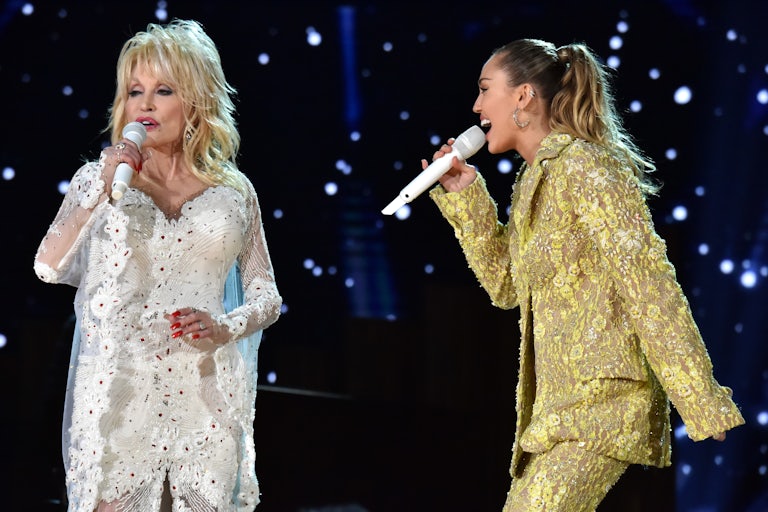 Lester Cohen/Getty Images for The Recording Academy
Dolly Parton and Miley Cyrus, who sang "Rainbowland" together, perform onstage.
All the hurt and the hate going on here (It needs to stop here)

We are rainbows, me and you

Every color, every hue

Let's shine through (through)

Together, we can

Start livin' in a rainbowland
These are the lyrics that have prompted a Wisconsin school district superintendent to recommend a first-grade teacher be fired.
On Monday, Heyer Elementary first-grade teacher Melissa Tempel says, she was notified that Waukesha School District Superintendent Dr. Jim Sebert is recommending her termination, in retaliation for her complaining about the district's decision to ban her students from singing Miley Cyrus and Dolly Parton's "Rainbowland," a chart-leading song about hope, positivity, and love.
The escalation follows an ongoing drama that has left thousands of people across the nation scratching their heads.
In March, first graders were barred from singing "Rainbowland" at their spring concert. Tempel had been working with other teachers to prepare for the concert, and they had decided that "Rainbowland" would be a good addition to the set list. But administrators, including the school principal, barred the song's inclusion. The opponents cited a district-wide policy on items "that may be considered political, controversial, or divisive."
After Tempel tweeted about the ban, bringing mass public attention toward it, she was placed on administrative leave, with few details made available to the public.
"I am deeply concerned that Ms. Tempel was removed from her classroom for standing up for them and what she knows is right," a parent from Tempel's class said at the time.
Even State Superintendent Dr. Jill Underly weighed in, sending a letter addressed directly to Waukesha Superintendent Sebert and the Waukesha School Board, saying she was "deeply troubled by the harm caused" by their actions, imploring them that "this damage is reversible. It is paramount that you change course now."
Underly cited Waukesha's own policies to argue what the administrators' course of action should be. "The district can instead choose to foster inclusive environments where staff, students, and families are able to 'identify important issues, explore fully and fairly all sides of an issue, weigh carefully the values and factors involved, and develop techniques for formulating and evaluating positions,'" she wrote, citing the very same policy that led to the song ban.
"You can choose to re-evaluate the decision to place a district employee on administrative leave and, instead, recognize that 'acknowledging the rights of [the district's] professional staff members as citizens in a democratic society is, in fact, in the best interests of the School District of Waukesha,'" Underly continued.
Yet it seems, instead of reflecting on whether they may have reacted too harshly, they decided to go even further and move to fire Tempel.
"I have missed my first graders every single day since I was removed from the classroom with no notice, no ability to provide plans and no ability to communicate with my first-grade families, Tempel said in a statement. "It will take me a long time to process how cruel the District's actions were to those families and the chilling effect my termination will have on any other educators in the Waukesha community."
The recommended firing follows a long-standing concern by parents and teachers about district administrators policing expression within the classroom. Waukesha's Board Policy 2240, "Controversial Issues in the Classroom," has set guidelines for when the district would "permit" a so-called "controversial issue" to be introduced in the classroom. Along with the innocent Cyrus and Parton song, the policy has also been applied to bar students, teachers, and even classroom walls from donning rainbow designs, because of their association with the LGBTQ community.
With regard to the song banning itself, Waukesha School Board President Dr. Kelly Piacsek and Superintendent Sebert previously insisted they did not "insert themselves into the song selection." The pair has framed the decisions as ones made by Heyer Principal Mark Schneider and the school's music teacher, insisting that they only reviewed and upheld decisions made by Heyer's staff. Yet they interestingly took it upon themselves to explain the exact rationale of why the song was banned. They explained that the "subject matter addressed by the song's lyrics" was not in line with the "the age and maturity level of the students."
While Tempel has encouraged individuals not to call the district out of concern for taking time and resources away from students, she herself plans to pursue a First Amendment claim against the district. "I cannot allow others to be intimidated into silence. These are matters of public concern that the Waukesha Community has a right to know about and I stand by my decision to share the impact of Policy 2240 with the public. I will rest easy every night knowing that I did what was right for children."