Ted Cruz Thinks It's Hilarious That He Booked It to Cancun During That Deadly Texas Storm
More than 240 of his constituents died. But to Ted Cruz, it's all a little punch line.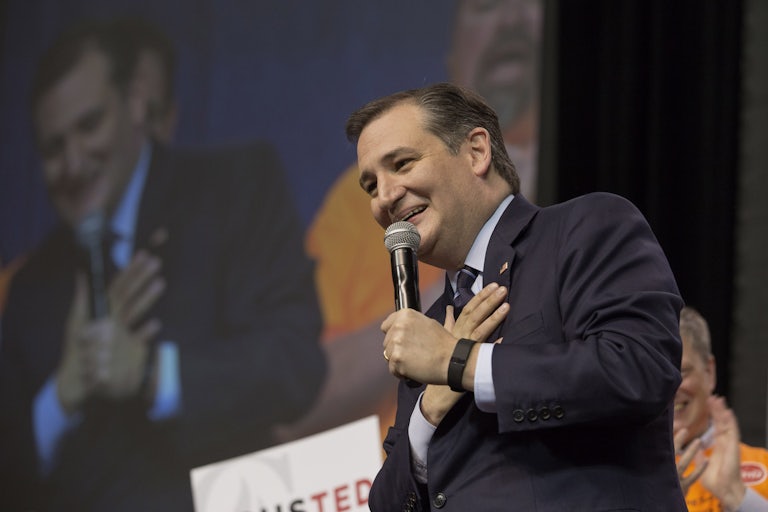 Matthew Staver/Bloomberg/Getty Images
In February 2021, just one month after Ted Cruz failed to lead an effort to overturn the certification of the presidential election results in Arizona and Pennsylvania, millions of people in his home state of Texas were suffering without power during a historical and deadly winter storm. Cruz, however, was on his way to Cancun to soak in a little sun, while his constituents struggled to stay warm enough to keep breathing.
It's a legacy that will stay with Cruz, but amid the escalating viciousness of his party, he has been able to shed the association ever so slightly. However, on Friday, he gave us a reminder of how cartoonishly callous he most certainly is.
It's all a joke. The pain, the suffering, the heightened contradictions his departure from his constituents revealed—it's all just funny to him.
At least 246 people died in that storm, one of the worst natural disasters in Texas's history; victims ranged in age from less than 1 year old to 102. People were stuck in the snow, some were unable to obtain necessary medical treatments, others were found dead alone in rural communities with little support.
In Houston, The New York Times reported, an Ethiopian immigrant died in her idling car, inside her garage, where she sat while charging her phone.

"She tried to drink water," said Negash Desta, a relative of the deceased, Etenesh Mersha. "After she told her friend she couldn't talk anymore, there was no response after that." Her daughter was found dead, while her husband and son were hospitalized.
Recall too: resorting to finding power wherever one could (at risk of carbon monoxide poisoning), going out into the cold for help, dying alone—all of it was happening amid the height of the Covid-19 pandemic.
And still. To Ted Cruz, the human suffering, the real-world implications of an energy policy so reliant on fossil fuels, of a government system that can leave so many to die such cold, lonely deaths—it's all a little punch line.