Matt Walsh Is Selling Plush Toys of Himself in a Diaper "for Your Kids to Play With"
The far-right commentator has led the charge about LGBTQ people grooming kids. Now he's selling this monstrosity.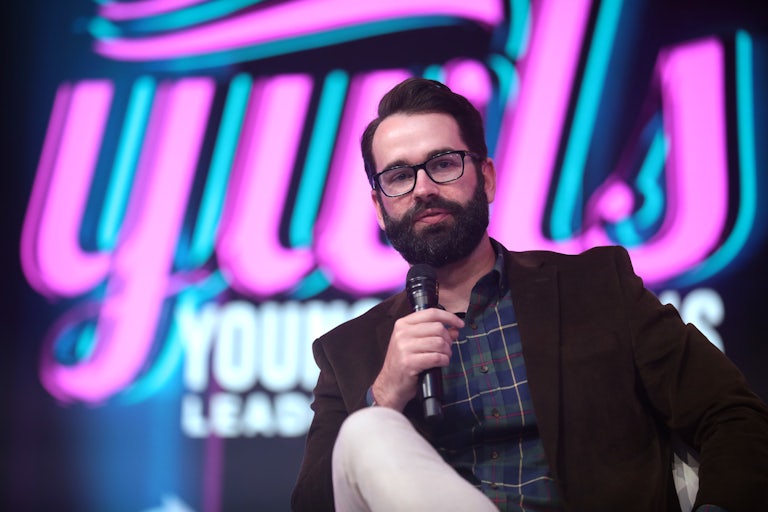 Gage Skidmore/Flickr
Far-right commentator Matt Walsh
Right-wing commentator Matt Walsh is selling plush toys of himself donning a diaper "for your kids to play with."
"I've been informed that as of today you can get your own, very own stuffed sweet baby by purchasing yours from the Swag Shack at daily wire dot com slash shop," Walsh said on his program.
The $24.99 product—marketed on the "Swag Shack" as being perfect "for your kids to play with—can be bought at a special premium too! Just $44.99 for a pair of twins."

"I never asked for this, but some of you have," Walsh said.
Who is asking for this?
Walsh's career at this point is mainly dedicated to whipping up vicious conspiracy theories about LGBTQ people. He's so far deep that in the aftermath of a mass shooting at a Colorado gay nightclub last year, which left five people dead and another 25 injured, Walsh didn't express much concern at all for the actual victims of the hate crime. He instead threw a fit about some fictitious liberal agenda to use the mass shooting to force people to accept the sexualization of children (the logic, supposedly: Being gay means sexualizing children).
Earlier this week, Walsh menacingly said he's "excited" for Pride Month, saying, "We have big plans."

The plush toy sale, and Walsh's eagerness for Pride Month, comes as the far right has increased its attacks on LGBTQ people and culture. This week, its new target has been … Target, for selling clothes with rainbows on them. Its issue is that one specific brand also makes a shirt that says, "Satan respects pronouns"—something not sold in Target. Nevertheless, figures like Walsh, Benny Johnson, Ben Shapiro, and others have targeted Target (and their minimum-wage workers) anyhow.
All that to say, this toy is already kind of weird for Walsh to be selling. But one need not even imagine how violently Walsh would respond if, say, any gay person on the street were selling a contextless plush toy of them in a diaper "for your kids to play with." There's not some sort of educational benefit to the toy, nor any practical use. Just a stuffed "sweet baby" Matt Walsh. In a diaper. For your kids to play with.
Sure, Walsh is hypocritical; but more than anything else, he's just downright weird.