Starbucks Denies Union Allegations of a Ban on Pride Decorations
The coffee chain maintains it is not caving to far-right attacks on LGBTQ people, despite union reports.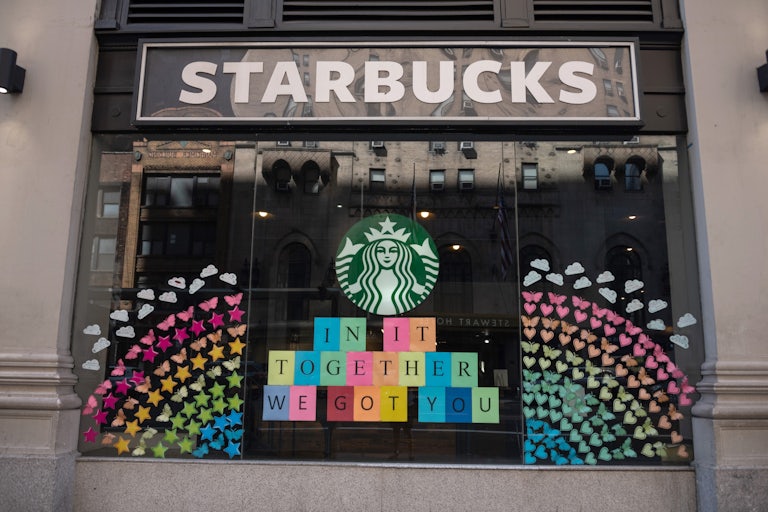 Alexi Rosenfeld/Getty Images
A New York City Starbucks coffee shop displaying Pride colors in 2020
Starbucks has banned Pride decorations in stores halfway through Pride Month, the company's workers union claimed Tuesday. If true, it would be a stunning cave to far-right anti-LGBTQ fury—but the coffee chain denies that any such policy is in place.
There has been a wave of ultra-conservative pushback against companies that express support for equal rights. It started when Bud Light did a campaign with transgender influencer Dylan Mulvaney in March, but things really kicked off when Target displayed its Pride swimwear collection. Target said it would pull back its Pride merchandise in response to the outcry.

"For the last two weeks, Starbucks workers have taken to social media to report that the company is no longer allowing Pride decorations in-store," the Starbucks workers' union tweeted.
But Starbucks spokesperson Andrew Trull said there has been no change to corporate policy regarding displays for Pride or any other heritage month. "We unwaveringly support the LGBTQIA2+ community," he said in a statement. "There has been no change to any policy on this matter and we continue to encourage our store leaders to celebrate with their communities including for U.S. Pride month in June."
"We're deeply concerned by false information that is being spread especially as it relates to our inclusive store environments, our company culture, and the benefits we offer our partners," he added.
Starbucks has always adopted a pro-LGBTQ stance, at least in public. This year, they even partnered with artist Tim Singleton to design a series of special Pride-themed tumblers. But according to the union, workers in stores in at least 21 states were told that all Pride decorations must come down—even in unionized stores, where Starbucks normally argues it can't make sweeping changes without first discussing it with workers.
Starbucks Workers United told The New Republic that workers at a store in Massachusetts were told they couldn't decorate because there weren't enough "labor hours" to decorate and run the store. Some employees were told decorating was a safety concern: in Georgia, workers were told it was unsafe to be on ladders to hang a Pride flag. In Oklahoma, workers were told Pride decor was considered unsafe because of recent attacks on Target.
Employees at a Maryland store were told that some people felt excluded by Pride decorations. Posts on Reddit that did not indicate location showed that other workers were also told some customers considered the Pride decor exclusionary.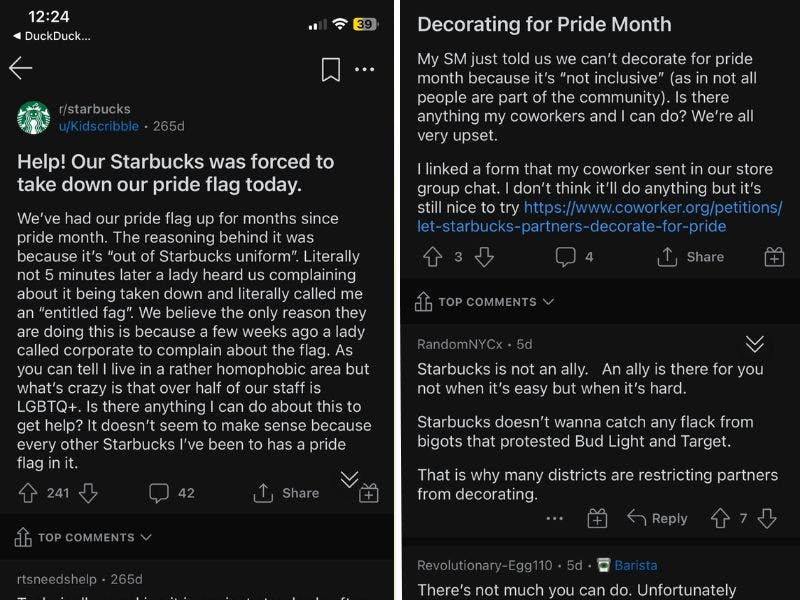 The union also noted that this would not be the first time Starbucks has failed to stand up for LGBTQ people, including its own employees. In October, some trans Starbucks workers found that their health benefit plan had changed, forcing them to pay out of pocket for certain treatments and causing them to lose access to certain providers, according to Starbucks Workers United. Trull told The New Republic in a separate conversation that Starbucks health care policy has not changed.
It would be understandable for Starbucks to suddenly grow wary of overt Pride displays, considering how bad the right-wing rage has become. Target stores in five different states received bomb threats over the weekend and had to be evacuated.

But there had been no such fury directed at Starbucks.
This article has been updated.