Lindsey Graham: If You Can Indict Trump for January 6, You Could Go After Any Republican
… OK, and?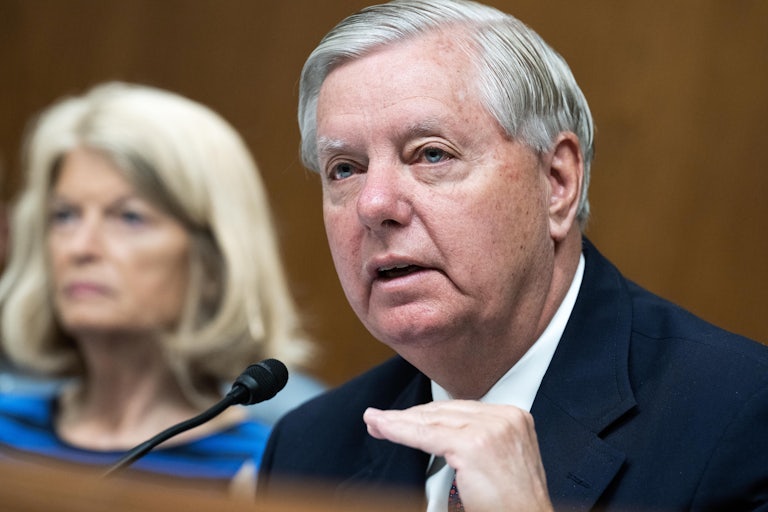 Tom Williams/CQ-Roll Call, Inc/Getty Images
Lindsey Graham is putting up a banner week of patheticness.
Earlier this week, Graham temperamentally snapped at a news anchor on live television after he was simply asked straight-up whether he believes twice-impeached and now twice-arrested Donald Trump did anything wrong.
Then, on Wednesday, Graham expressed a maximally incoherent version of the classic "if they can arrest Donald Trump for [any one of his dozens of lifetime crimes], imagine what else they can do":
"If the special counsel indicts President Trump in Washington, D.C., for anything related to January 6, that will be considered a major outrage by Republicans because you could convict any Republican of anything in Washington, D.C.," Graham told CNN's Manu Raju.
Let's break this down, step by step. Graham seems to suggest:
A) It's outrageous to hold Trump legally accountable for helping incite an attack on the nation's capital.
B) If he is held accountable, you could convict any Republican (which maybe says more about where he thinks the party stands in relation to Trump and his misdeeds).
C) It's outrageous for any of that recourse to happen in Washington, D.C., the site where the January 6 attack took place.
Somehow, every step of Graham's formulation sounds dumber than the next. To be holding onto some imagined reality in which a man who lost an election by 7,000,000 votes spent months spurring up conspiracies about said election, actively tried influencing officials across the country to help him overturn said election, and encouraged his loyal supporters to rise up on a specific day is not, perhaps liable for the ensuing chaos, is one thing.
To also argue that indicting that chaos in the jurisdiction where it occurred is for some reason out of bounds is another thing.
And of course, the cherry on top is Graham's admission that if Trump was held accountable for such actions, there logically would be other Republicans to follow (even if Trump is held accountable, it's unlikely any other members of Congress would really go down with him).
Graham's commitment to a guy who has had the party lose over and over and over again is embarrassing. A reminder, once again, of Graham's words in 2016: "If we nominate Trump, we will get destroyed … and we will deserve it."