Conservatives Are Now Boycotting Chick-fil-A for Not Being Homophobic Enough
Right-wingers are mad that the fast food chain is turning woke.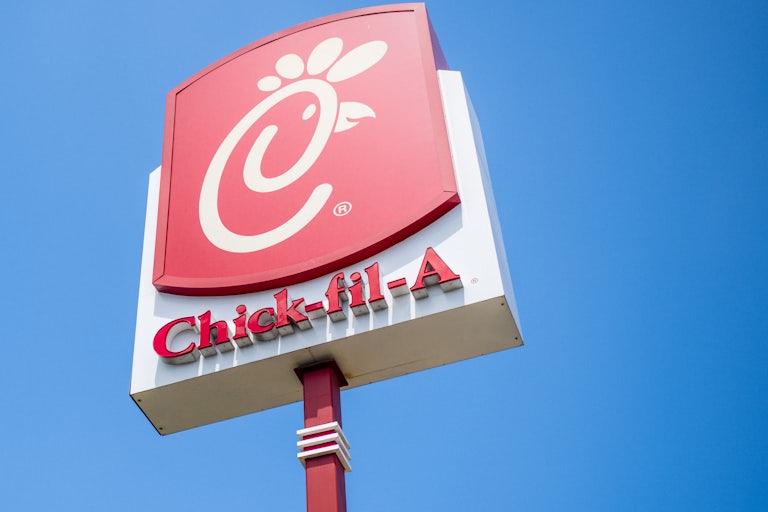 Brandon Bell/Getty Images
Bud Light apparently went too far after influencer Dylan Mulvaney, who is transgender, posted an Instagram video promoting a March Madness contest. Target apparently went too far by selling shirts with rainbows. And now, conservatives are setting their brain-poisoned sights on … Chick-fil-A, for the crime of having an H.R. department.
Italian American political commentator Joey Mannarino—who says his pronouns are "Shut/Up"—was at the forefront of whipping up the outrage on Monday:
"It's only a matter of time until they start putting tranny semen in the frosted lemonade at this point," Mannarino continued, making up a very odd scenario. Mannarino tweeted his fears while linking to Chick-fil-A's diversity, equity, and inclusion page, where the company highlights its efforts to create a culture of belonging, invest in scholarship funds, and fight hunger.
Mannarino later posted a video—sporting sunglasses on a nice-looking balcony in Miami—insisting that he is "not mad." (After all, he says, "I'm chilling, drinking a glass of wine on a nice afternoon.") But he went on to claim that DEI programs are the real racism and that it's not crazy for him to say Chick-fil-A will put "tranny semen in the frosted lemonade" because Bud Light is already apparently doing that.
Mannarino's posts have incited an uproar among far-right online users, from noted conspiracy-peddler Stew Peters to self-proclaimed "moderate" Tim Pool.
A basic fact-check first: The company has not "just hired a VP of Diversity, Equity, and Inclusion." The current vice president has in fact served in the role since November 2021.
The real humor, of course, is the idea of conservatives boycotting one of the more historically culturally conservative chains in America. As of 2012, Chick-fil-A had donated over $5 million to viciously anti-LGTBQ groups. At the time, as the company faced backlash for the revelations, Republicans like Arkansas Governor Mike Huckabee even led vapid counterprotesting efforts, like "Chick-fil-A Appreciation Day, to reward the company for not supporting same-sex marriage.
And even while the company eventually promised in 2019 to stop donating to anti-LGBTQ groups, its owner, Dan Cathy, hasn't. Cathy is a major donor to a far-right organization that bankrolled efforts to kill the Equality Act, which would have banned discrimination on the basis of sexual orientation and gender identity.
Despite all that, online conservatives have whipped themselves up into a frenzy at the idea of a company embracing the notion of different kinds of people feeling equal and included.
The asymmetry of what people care about would be all the more funny—if it weren't so depressing. Different factions of the left in America are boycotting deep-seated systems of power: anti-LGBTQ companies, the war machine, toxic fossil fuel interests, Israel and its treatment of Palestine. The far right, meanwhile, is attacking pretty much any entity that even expresses support or affirmation for diversity or queer people.
And they seem to have bountiful gratitude toward one individual in particular—who has platformed much of this conspiratorial brain-melting sludge, if not expressed support for it himself.
"@ElonMusk giving us back Twitter has allowed us to effectively organize and boycott companies where we can do genuine financial damage," Mannarino proclaimed Monday.