Trump Begs Judge to Stop Second Defamation Case From E. Jean Carroll
The argument Trump's team is using to get this case thrown out is beyond twisted.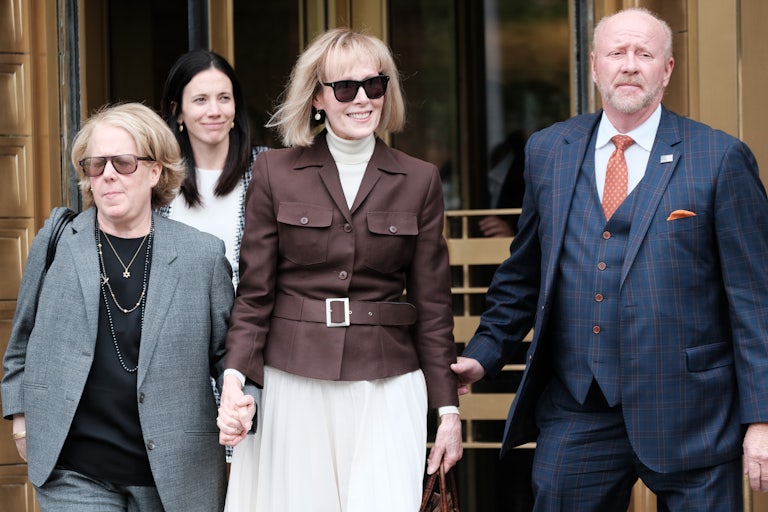 Spencer Platt/Getty Images
Former President Donald Trump thinks that one of E. Jean Carroll's defamation lawsuits against him should be dismissed because he was only found liable for sexually abusing her, not raping her.
Trump was unanimously found liable in May for sexual abuse and battery against Carroll in the mid-1990s, and for defaming her in 2022 while denying the assault. Carroll has two more defamation lawsuits against Trump pending: one from 2019 and one from last month after he bashed Carroll during the CNN town hall.
But Trump and his legal team argued Monday that he couldn't have defamed Carroll in 2019, because he was technically telling the truth when he denied raping her.
"The operative question in this case is, and has always been, whether a rape occurred in the Bergdorf Goodman dressing room," Trump's lawyers wrote in the court documents. The jury "found that one did not."
Carroll accused Trump in her 2019 memoir of raping her in the Manhattan Bergdorf Goodman department store in the mid-1990s. She initially sued him twice for defamation: first in 2019, when he said she made up the rape allegation to promote her book, and again in November for posts he made about her on social media.

A New York jury unanimously found Trump liable of sexual abuse and battery against Carroll and of defaming her in 2022. They recommended she be awarded a total of $5 million in damages.
Carroll is not the only woman to accuse Trump of sexual assault, but her case was the first to make it to a courtroom. Trump continues to vehemently deny all of the allegations, and launched fresh vitriol at Carroll during the disastrous CNN town hall last month. So Carroll sued him for defamation again.
Carroll's lead lawyer, Roberta Kaplan, rejected Trump's claim that he hadn't defamed Carroll, referring to the unanimous verdict in the recent trial. "The jury believed E. Jean Carroll when she testified that Trump sexually abused her. As a result, the jury concluded that Trump knowingly lied about Ms. Carroll when he claimed otherwise," Kaplan said in a statement Monday.
This is not the first time a member of Trump's inner circle has tried to get the 2019 lawsuit thrown out. Last week, the judge denied an attempt by Trump ally James H. Brady, who argued that the former president was being unfairly treated because he is a "white Christian."