Republicans Are Bringing Back Their Plan to Gut Social Security and Medicare
A new budget proposal for the 2024 fiscal year makes sweeping cuts.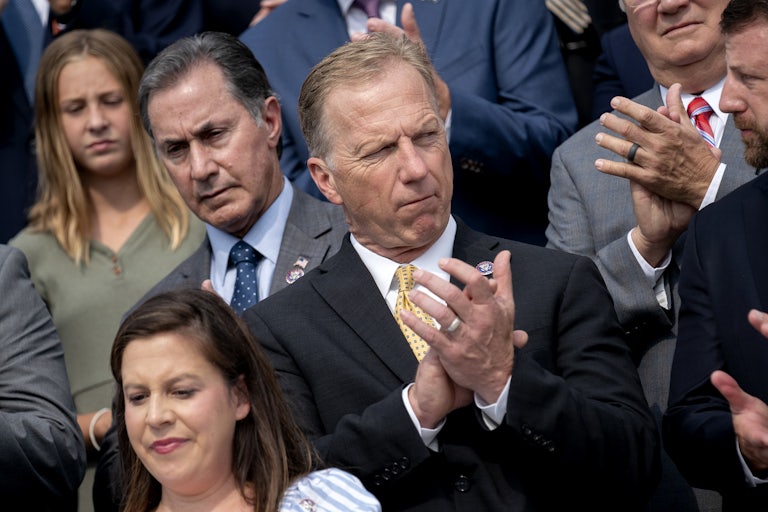 Stefani Reynolds/Bloomberg
Republicans have claimed over and over again that they are not trying to cut Social Security and Medicare. Heck, Joe Biden got them to agree they would not make cuts to the programs, in a memorable verbal maneuver during his State of the Union speech earlier this year.

And yet the Republican Study Committee (of which some three-quarters of House Republicans are members) just released its desired 2024 budget, in which the party seeks to, you guessed it, cut Social Security and Medicare.
And note their seriousness. "The RSC Budget is more than just a financial statement. It is a statement of priorities," the party assures in the document, released Wednesday.
The proposed budget would effectively make cuts to Social Security by increasing the retirement age for future retirees. The document seeks to assure people that there would only be "modest adjustments" but does not list what Republicans think the new retirement age should be.
On Medicare, Republicans propose requiring disabled Americans to wait longer before getting benefits and turning Medicare into a "premium support" system, a long-floated Republican idea that essentially turns the government program into a voucher scheme. Such a scheme would remove the guarantee for seniors to have affordable access to Medicare.
Republicans also call for "pro-growth tax reform" (read: cutting taxes for the wealthy and corporations); "work requirements" (imposing more requirements on poor people trying to attain social services); and "regulatory reforms that increase economic growth" (encouraging the sort of deregulation that welcomes crashing financial institutions, corporate-poisoned rivers, and more than 1,000 train derailments a year).
As far as taxes go, the party wants to make permanent the individual provisions of Trump's tax cut bill, which gave a roughly $49,000 annual tax cut to the top 1 percent and only $500 to those in the bottom 60 percent. In doing so, they'd add nearly $2.5 trillion to the deficit over 10 years, according to the Congressional Budget Office. The party also wants to eliminate the estate tax, which only impacts those who inherit assets worth at least $13 million.
On work requirements, the budget calls for "all federal benefit programs [to] be reformed to include work promotion requirements." As in, food stamps, Medicare, you name it: They want it subject to work requirements. And sorry, Andrew Yang: The budget explicitly says it opposes any efforts to implement proposals like universal basic income.
The budget also takes issue with the "significantly lower labor force participation rate of 64.6% for those aged 55-64," saying it supports extending work requirements for this group. There could be any number of reasons fewer people in this age group are working: physical or mental health issues, needing to help take care of their children or grandchildren, or just not wanting to work for their entire life on earth. Instead of imaging how to navigate or meet any of those reasons, Republicans' solution is to force them to work more.
Speaking of families, the budget also aims to eliminate a provision that allows schools to provide free school lunches to all their students; instead, it aims to means-test which kids are allowed to have free lunch and which ones aren't.
On regulation, the budget includes a litany of ways it aims to stymie regulation. One of many provisions involves reinstating Trump's deregulatory executive orders, including a range of orders related to environmental protection. In the wake of smog enveloping one-third of the country, thousands of dead fish washing up on Texas's shore, and East Palestine, Ohio's waterways being poisoned, Republicans are pursuing less environmental protection.
And all this is just a sampling of Republicans' explicit "priorities" they are pursuing in 2024.