You Just Lived Through the Three Hottest Days on Earth—and More Is Coming
Experts predict things will only get worse from here.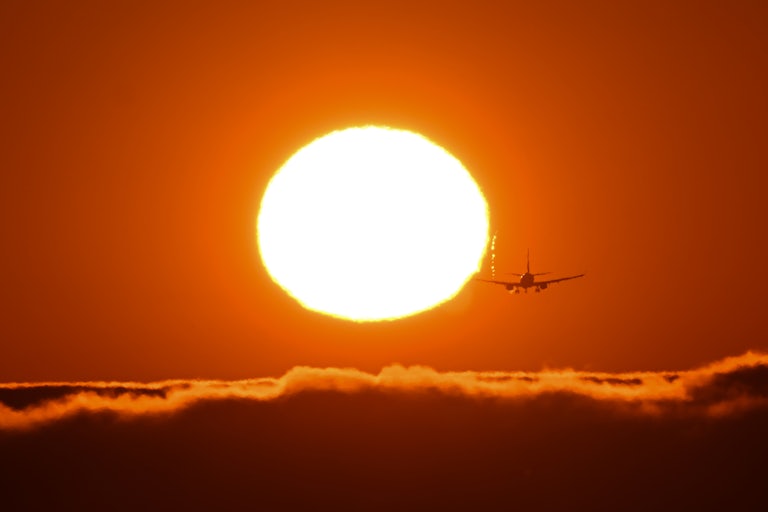 Tayfun Coskun/Anadolu Agency/Getty Images
A passenger plane is landing during sunset in San Francisco as a heat wave overtook California on June 30, 2023.
What's difficult about living through history is you often don't know the magnitude of it all until it's over. But at this rate, things being "over" might mean us not being around to look back at it at all.
In this particular case of living through history, Earth just logged the hottest global temperature ever recorded three days in a row—and perhaps the hottest it's been in some 125,000 years. The earliest-known human use of symbols dates to around the same time.
On Monday, the average global temperature reached 62.62 degrees Fahrenheit (17.01 degrees Celsius). On Tuesday, it went even higher, reaching 62.94 degrees Fahrenheit. And that number continued to climb into Wednesday.
Those numbers come after June was already the hottest month on record—and experts predict things will only get worse.
The temperatures recorded over the last week, from the University of Maine's Climate Reanalyzer, are the highest in the tool's 44-year history. The European Union's Copernicus Climate Change Service has since confirmed that Monday and Tuesday's temperature readings broke the records in its own data, which spans back even further, to 1940.
Data collected from tree rings, ice cores, coral reefs, and other sources strongly suggests that the temperatures are indeed the hottest in more than 100 millennia.
"These data tell us that it hasn't been this warm since at least 125,000 years ago," Paulo Ceppi, climate scientist at London's Grantham Institute, told The Washington Post.
Jennifer Francis, senior scientist at Woodwell Climate Research Center, affirmed Ceppi's claim, saying the records were likely the warmest in "at least 100,00 years."
The heat is part of an ongoing and increasing threat. Copernicus said Thursday that last month was the hottest June since its records begun. "The month was the warmest June globally … exceeding June 2019—the previous record—by a substantial margin," the organization said.
This extreme heat is partially caused by a regular El Niño weather pattern, which is helping temperatures to surge across the globe. But the skyrocketing temperatures are also thanks to human fossil fuel use and excess carbon emissions. Measurements of carbon dioxide in the atmosphere averaged a whopping 424 parts per million in May—yet another historic peak in a steady climb scientists have recorded for decades.

It cannot be overstated how very real the misery of climate change is. The impacts are being felt worldwide; if you haven't felt them, you can just ask a longtime resident of virtually any city what the weather was like years ago versus today. But the effects, of course, are much more than people needing to tug at their collar a bit more than before.
Seminole County, Florida, has already exceeded last year in the number of days it had to activate an emergency weather plan—something only initiated when the heat index is 108 degrees or higher. Texas and other Southern states have reached such dangerous levels repeatedly. On Tuesday, at least 57 million Americans were exposed to dangerous levels of heat.
In China, historic weeklong heat waves have scorched millions of residents; days inching toward 110 degrees have halted outdoor work, and initiated heatstroke and even crop-protection measures.
Parts of North Africa peaked up to 122 degrees, while Antarctica's temperatures inched toward 50 degrees. Chari Vijayaraghavan, a polar explorer and educator who has visited the Arctic and Antarctic regularly for the past 10 years, told the Associated Press that global warming is obvious at both poles, existentially threatening the lives of wildlife like penguins.
By mid-June, at least 96 people in India had died from heat-related conditions—in just two of India's 28 states.
With all that being said, the heat may only dial up, unless we make dramatic changes to how society runs and who gets to run it.
Robert Rohde, lead scientist at environmental data science organization Berkeley Earth, urges us to consider what it means for a record to break, and break again, and continue to stay at that record-breaking level. "We may well see a few even warmer days over the next six weeks."