Republicans Push Dangerous Anti-Trans Rhetoric After Nashville School Shooting
This is vile.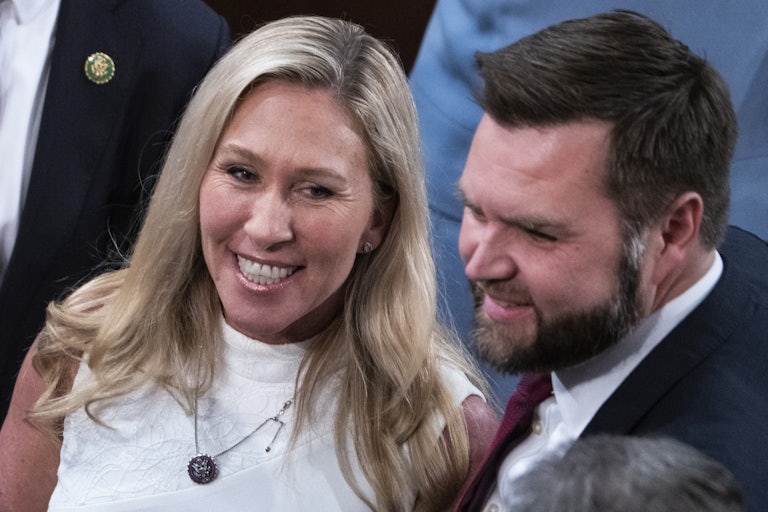 Tom Williams/CQ-Roll Call, Inc/Getty Images
Representative Marjorie Taylor Greene and Senator JD Vance
Republicans have decided that the most important thing about the mass shooting in Nashville is not that six people died, but that the attacker was reportedly transgender.
A shooter opened fire at a private Christian elementary school in Nashville on Monday, killing at least three children and three adults and wounding several others. Police have identified the attacker as Audrey Hale, a former student at the Covenant School. Officials believe that Hale was trans, Police Chief John Drake told NBC News, but they don't know if that played a role in the shooting.
"There's some belief that there was some resentment for having to go to that school," Drake said while clarifying that law enforcement is investigating all potential leads.
Conservatives have latched onto the report about Hale's identity—and their reactions have been truly vile.
Representative Marjorie Taylor Greene and rightwing activist Charlie Kirk both insisted that the U.S. doesn't need to regulate guns, it needs to ban gender-affirming care.

"Everyone can stop blaming guns now," Greene concluded.
Senator J.D. Vance said there needs to be "a lot of soul searching on the extreme left" for "giving in to these ideas" of gender identity and empowering people to live authentically. Presidential candidate Vivek Ramaswamy said if a person is trans, then it means something else "is badly wrong in their life," essentially calling for anti-trans conversion therapy. Meanwhile, Republicans have refused to increase infrastructure for social welfare and mental health counseling.
Kingsley Cortes, a former aide on Donald Trump's 2020 presidential campaign, suggested prohibiting trans people or anyone receiving gender-affirming care from buying guns, seemingly the only gun control proposal put forth by Republicans after the school shooting.
Conservative commentator Tomi Lahren suggested that news media would bury the story or try to blame Christians and anti-trans activists for driving the shooter to action. The story is front-page news for most major news outlets, and police have already said that the school's ideology may have played a role in Hale's motivation.
Podcaster Matt Walsh called trans people "violent" and "dangerous" and said, "Trans activists believe that those who oppose them should die."

Donald Trump Jr. went the farthest, tweeting an outright lie: "Given the incredible rise of trans/non-binary mass shooters in the last few years…by far the largest group committing as a percentage of population…maybe, rather than talking about guns we should be talking about lunatics pushing their gender affirming bullshit on our kids?" he said.
This is blatantly not true. The vast majority of mass shootings are carried out by cisgender white men.