Two Democrats Help Republicans Pass Vile Ban on Pride Flags in Military
Even three Republicans voted against the measure, and yet…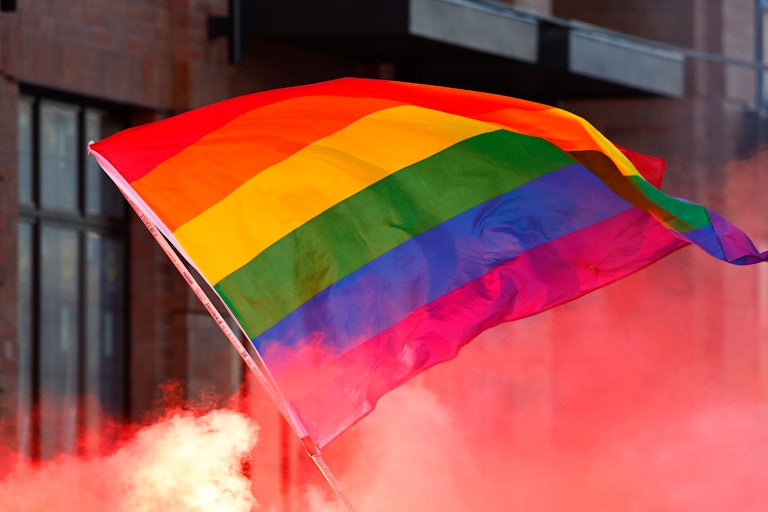 Rich Graessle/Icon Sportswire/Getty Images
Two Democrats—one poised to be the party's next anointed Kyrsten Sinema—helped Republicans codify Donald Trump's policy banning the Defense Department from displaying Pride flags.
The amendment to the national defense bill came from Republican Representative Ralph Norman, as part of the stream of culture war issues the party took up before they voted to shove another nearly trillion more dollars into the military industrial complex.
In a 218–213 vote late Thursday, the House approved the amendment that would ban members of the armed forces or civilian employees from displaying any flag other than the American, or other limited approved flags like state or military service ones, or flags of another country that is "an ally or partner of the United States." The amendment was widely interpreted as one targeting Pride flags in particular.
A Norman aide noted that while the Pentagon hasn't flown a Pride flag, the goal of the amendments is to get ahead of the trend of more and more agencies displaying Pride flags, even simply on social media accounts. Acts as extreme as the Navy having a rainbow Twitter banner during Pride month this year were enough to light the fire underneath 218 House members to put the foot down on letting anyone imagine that military members might be gay.
The amendment codifies a Trump-era (and Biden-upheld) policy that bans Pride flags from military bases. Such an amendment even got three Republican dissenters in Representatives Brian Fitzpatrick, Mike Lawler, and Marcus Molinaro.
Still, two Democrats decided the bigoted ban was one worth adding to the defense bill: Michigan's Elissa Slotkin and North Carolina's Don Davis.
Davis may be triangulating as he anticipates unfavorable gerrymandering from state Republicans. Nevertheless a weak excuse, as it is politically inept for Democrats to legitimize such causes as anything more than paltry culture war. Relatedly, Davis also joined eight Democrats—including those who voted against student debt relief—in approving Republican Chip Roy's amendment to ban funds from going towards teaching critical race theory.
Such urgent priorities these Democrats bravely gave credence to.
Slotkin, for her part, said her vote was "to ban hateful flags from flying on military bases, particularly the Confederate flag," arguing that the most sound way to ban "hateful flags" was by pursuing a near-universal flag ban.
Slotkin may very well have believed her vote to be more about banning hateful symbols at the relatively smaller expense of banning Pride flags. Even if that was the case—and considering that the entire Democratic caucus otherwise voted against the amendment—the vote adds to a broader record of the Democrats' heir-apparent Michigan Senate candidate dissenting against other caucus-wide causes.

Previously, Slotkin has opposed student debt assistance on a vote supported by 93 percent of the caucus, voted against 85 percent of her caucus on whether the United States should simply study the impact of its sanctions on other countries, voted to overturn locally enacted criminal justice and voting rights reforms in Washington, D.C., and even voted against 94 percent of her caucus to bar security clearance from anyone who has used cannabis.
Slotkin also does not openly support Medicare for All, the Green New Deal, or abolishing the death penalty. And now, she has signed on to a Republican-led bill that bans members of the armed service from displaying a Pride flag.

Michigan is part of Democrats' growing midwestern blue wall—a region where the party has shown, over and over again, how strong commitments to progressive causes can actually manifest into meaningful change for millions of people. But Slotkin is proving over and over again her incongruence with that possibility.
This article has been updated.