Matt Gaetz Confronted With Video Receipts That He Sought a Pardon From Trump
The Florida representative denied the reports, despite under-oath testimonies.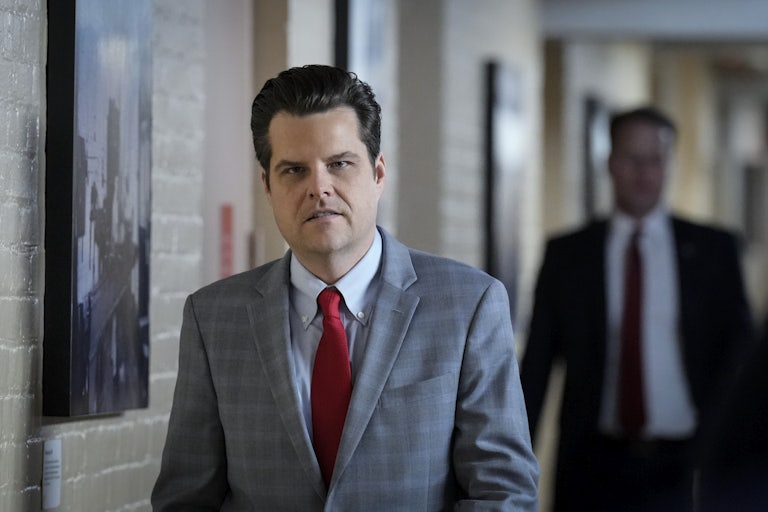 Drew Angerer/Getty Images
At least three people have testified under oath saying Representative Matt Gaetz asked former President Donald Trump for a preemptive presidential pardon regarding a Justice Department investigation into whether the Florida congressman had violated federal sex trafficking laws. Now Gaetz is saying all of those testimonies, provided under risk of perjury, are lies.
On Ari Melber's MSNBC program Monday, Gaetz repeatedly denied asking for a pardon.

Melber showed Gaetz footage of former Trump officials who testified to the House select committee investigating January 6 that Gaetz had indeed asked Trump for a pardon.

John McEntee, who served as director of the White House Presidential Personnel Office in the Trump administration, also said Gaetz sought a pardon relating to the Justice Department investigation.
McEntee told the committee that Gaetz allegedly said "he did not do anything wrong but they are trying to make his life hell, and you know, if the president could give him a pardon, that would be great." McEntee also recalled Gaetz saying he had asked Trump's former chief of staff Mark Meadows for a pardon.
Gaetz told Melber that he shared many conversations with McEntee "about pardons for other folks and different groups of people."
Former Meadows aide Cassidy Hutchinson similarly told the committee that Gaetz "was personally pushing for a pardon." She testified that "Mr. Gaetz had reached out to me to ask if he could have a meeting with Mr. Meadows about receiving a presidential pardon." Hutchinson had also listed several other members, including Andy Biggs, Louie Gohmert, and Scott Perry, who had all asked for pardons.
Gaetz told Melber that Hutchinson is "a known liar," without specifying when exactly she has lied.
Former Trump White House lawyer Eric Herschmann also said Gaetz sought a pardon. "The general tone was we may get prosecuted because we were defensive of the president's positions on these things. The pardon that he was discussing, requesting, was as broad as you could describe," Herschmann said. "I remember he said, from the beginning of time up until today for any and all things."
"I do not remember it the same way Eric Hershmann does," Gaetz said. "I did have conversations with [him] about groups of people that could potentially receive pardons, even including some of the people who may have committed a technical violation of federal law but weren't engaged in violence on January 6."
"Was I asking something specifically for me and only me under those circumstances, the answer would be no," Gaetz told Melber, with careful word choice.
Gaetz's associate Joel Greenberg, a former Florida tax collector, pleaded guilty to federal charges including a count of sex trafficking a child. No charges have been filed against Gaetz, however, and he has denied any involvement in the sex trafficking allegations.